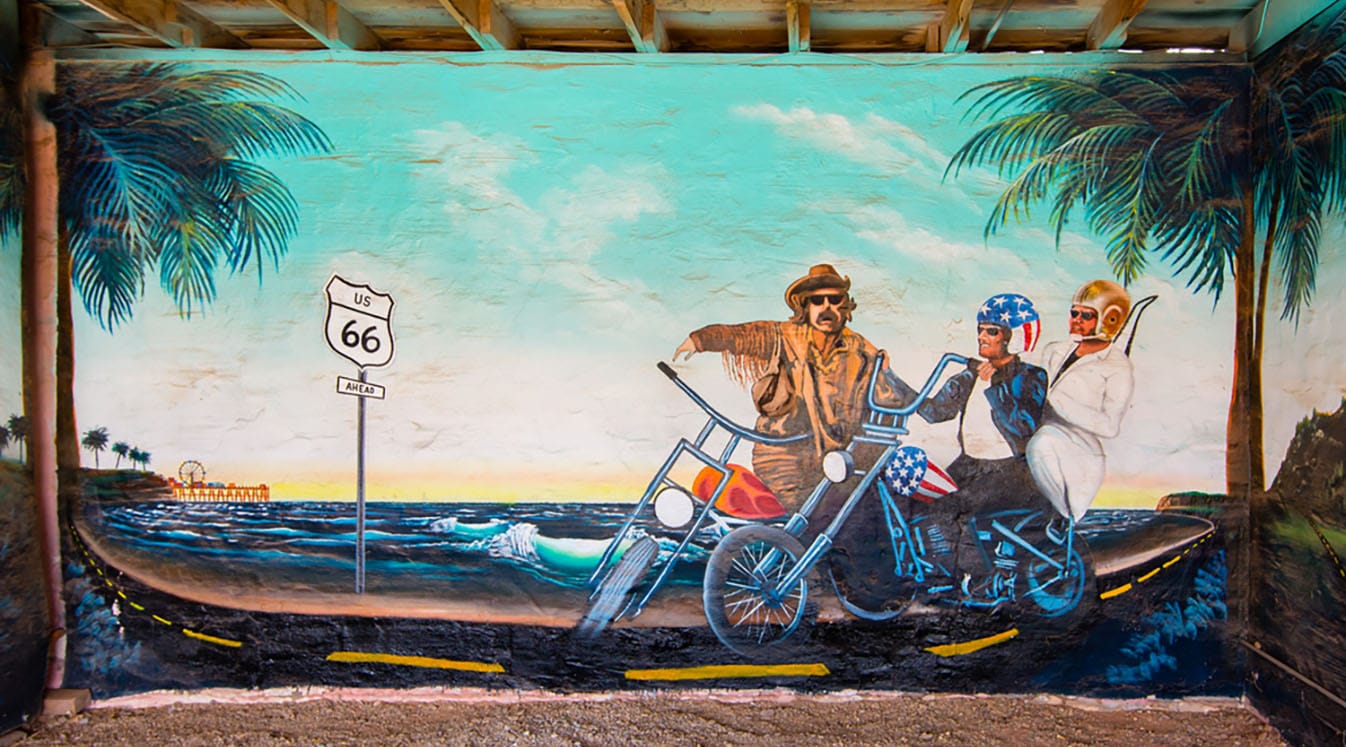 6 Motorcycle Movies Worth the Watch
Source: Steve Lagreca/shutterstock.com
The first production motorcycles hit the market in the first few years of the 20th century. Around the same time, the fledgling film industry was beginning to make its way into the public consciousness. Over a hundred years later, like ape hangers on cruisers or motorcycle Bluetooth headsets on helmets, motorcycles have become a fixture on the silver screen. 
There's no doubt that motorcycle cinema helped create the motorcycle culture we have today. What's more, the cinema and the motorcycle continue to define each other as new films enter the canon. Looking to catch some great motorcycle flicks? Here are six that will blow you away. 
1. Easy Rider
Easy Rider (1969) is much more than a motorcycle flick. It's an era-defining piece of cinema. Dennis Hopper and Peter Fonda star as bikers traversing the Southern U.S. while transporting a fat sack of cash from a drug deal. Along the way, they encounter a colorful cast of characters from the '60s and '70s counterculture, including free-love hippies, corrupt cops and more. 
Made on a shoestring budget of only $400,000, Easy Rider went on to revolutionize both indie cinema and motorcycle culture. And while some riders might not love the way it forever linked motorcycles with a specific type of counterculture, its power as a piece of cinema remains undeniable. 
2. The World's Fastest Indian
Anthony Hopkins stars in this quirky true story about the life of Burt Munro, a New Zealander who set land speed records with his heavily modified 1920 Indian Scout motorcycle. If you love films that celebrate the obsessive passion for motorcycles, then this 2005 film will be just your kind of flick. 
It's also a damn good road movie, with Burt encountering all sorts of interesting characters and challenging obstacles on his journey to test his mettle at the Bonneville Salt Flats. At the film's center, of course, is Anthony Hopkins, one of the greatest actors of his generation who does a fantastic job of portraying Burt in all his die-hard intensity. 
Source: Aneta Waberska/shutterstock.com
3. The Wild One
Laslo Benedek's The Wild One (1953) laid the foundation of the cinematic motorcycle outlaw that other films like Easy Rider would later perfect. But The Wild One is still a cinematic treasure in its own right, not least because of the presence of a dashing young actor named Marlon Brando. 
The Wild One is also intriguing for its connection to a foundational element of outlaw biker culture. It's loosely based on the 1947 Hollister riot, a widely-misunderstood and sensationalized event that affected public perception of motorcyclists in many ways. Thus, this classic film is an interesting piece of history in many ways—but it's also a killer film noir that will keep you on the edge of your seat. 
4. Why We Ride
What Trekkies was to Star Trek fans, Why We Ride (2013) aspires to be to the motorcycle-obsessed: a documentary that chronicles a love affair between humans and the things that make them feel alive. Why We Ride is all about capturing the passion of people at a variety of levels in the motorcycle hobby, and it does that exceptionally well. 
From dirt bikes to cruisers, and from the oldest to the youngest riders, Why We Ride offers a cross-section of the motorsports hobby that's made with the obvious passion of a motorcycle lover. And if there's someone in your life who just doesn't quite get why you love motorcycles so much, this film could be an excellent one to show them. 
5. 12 O'Clock Boys
The unfortunate truth is that, intentionally or by accident, the vast majority of motorcycle culture's classic imagery excludes people of color. For an antidote to that, try 12 O'Clock Boys, a fascinating 2013 documentary about the dirt bike culture of Black youth in Baltimore that's guaranteed to broaden your perspective.  
If you didn't know Baltimore had a dirt bike culture, you're in for a ride! After watching 12 O'Clock Boys, you'll be struck by just how widely and deeply diverse the powersports hobby is. And it should be stressed that this film is no token diversity play. It's a deep dive into a vibrant subculture full of interesting people who are portrayed in their full, imperfect humanity. 
Source: r.classen/shutterstock.com
6. Akira
Looking for something a little weirder in your motorcycle cinema? Katsuhiro Otomo's landmark 1988 anime sci-fi film Akira could be just your brand of insanity. The story follows a group of motorcycle-loving teenagers in futuristic Neo-Tokyo. When one rider is involved in a crash with the escaped subject of a government experiment, things start getting…well, pretty strange. 
How strange? Withered psychic children, telekinetic powers and grotesque body transformations are all on the menu. (Note that although this film is animated, it's definitely not for kids.) But despite all of its sci-fi trappings and straight-up weirdness, Akira remains a motorcycle movie at its heart, focused on the friendship between its two bike-obsessed main characters. (Heck, there's a motorcycle on the cover!) 
In search of some more awesome motorcycle-related media of the audio variety? Our rundown of the best classic motorcycle music will give you some great stuff to bump in your motorcycle helmet speakers.