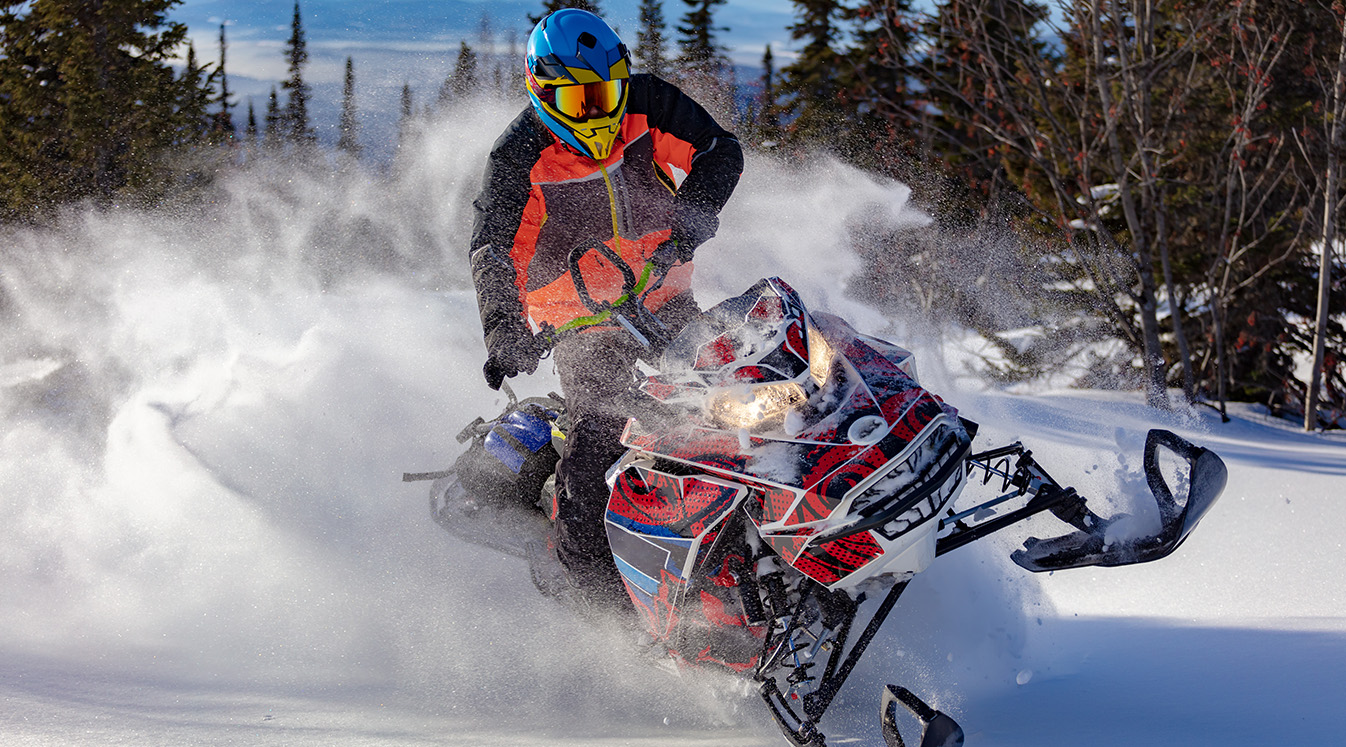 Along for the Ride: The Best Places to Snowmobile in the U.S.
If you're the type who lives for adventure and doesn't mind getting a little chilly, snowmobiling might be the sport for you. While others might see winter as the perfect time to curl up by the fire with a mug of hot cocoa, snowmobilers take the opposite approach and set out to conquer the icy landscape. (The hot cocoa can come after.) 
Whether you're just getting started on your journey as a sled rider or you're an old pro, it's all about finding the snowmobiling spots that will give you the best ride.
These eight spots offer just the right mix of exploration and adrenaline that every snowmobiler knows when they see it, and each will show you in its own way why there's no substitute for a roaring snow cat when you want to enjoy some winter adventure. 

1. St. Germain, Wisconsin
The forests of northern Wisconsin are prime territory for all kinds of winter sports, and snowmobiling is one of the most popular. St. Germain is the epicenter of Wisconsin snowmobiling culture thanks to the activities of the Bo-Boen Snowmobile Club, a local organization that maintains hundreds of miles of trails around the rural town. 
One reason that St. Germain is so important to the snowmobile sport is that the Vilas County area in which it's located is a historic epicenter of snowmobiling. Wisconsinite Carl Eliason invented the very first motorized snowmobile back in 1924 when he was just 24 years old, calling it the Motor Toboggan, and the Eliason snowmobile company bears his name to this day. St. Germain is such a legendary spot that it's even home to the Snowmobile Hall of Fame, a museum paying tribute to the sport's most famous figures, including Eliason and dozens of great snowmobile racers. 
If you're planning on a snowmobile excursion in St. Germain, you can look forward to over 600 miles of Vilas County snowmobile trails that will connect you with all of the area's best spots–from the legendary Eagle River to a stand of hundred-foot-plus pine trees at the gorgeous Cathedral Point. It's no wonder that the Vilas County trails are consistently ranked among the best in the nation, because the St. Germain community is uniquely passionate about snowmobiling in a way that you'll be hard-pressed to find anywhere else. 
2. Priest Lake, Idaho
Idaho is widely known for its abundant natural beauty, and Priest Lake is the picture-perfect postcard centerpiece of winter sports in the Gem State. The area features over 400 miles of professionally groomed trails that crisscross the pristine land of the Idaho Panhandle National Forest.  Trail elevations range from deep, snow-blanketed forests at 2,500 feet above sea level all the way up to trails through the nearby Selkirk Mountains that climb to a vertigo-inducing 7,000 feet. 
Priest Lake is also a top-quality vacation spot in general, with a full range of lodging options from full-package resorts to RV parks and cabin rentals to those who want to feel a little bit closer to nature. Many local snowmobile rental companies also offer full-service snowmobile excursions that include instruction in the basics, guided tours of popular snowmobile trails and even delivery of premium rental sleds to your lodging area. 
3. Steamboat Springs, Colorado
Steamboat Springs is a well-known winter vacation haven that offers some of Colorado's most mind-blowingly gorgeous scenery. Located high in the Yampa River valley, Steamboat Springs offers amazing views of the Rocky Mountains and includes all kinds of amazing activities at its variety of resorts, including snow tubing, skiing and snowboarding. But it also comes with world-class snowmobiling available for folks of all ages and ability levels. 
Some of Steamboat Springs' best snowmobiling is available through its guided tour options. Popular areas include Saddleback Ranch and Elk Mountain, as well as the striking basalt formations of Rabbit Ears Pass. Experienced professional guides help make the tour safe and fun for everyone, with ample opportunities to stop for breaks (and, yes, selfies). Some tours even include the fun of snow tubing, and when your snowmobile adventure is over, you can head over to the body-soothing hot springs that give the area its name. 
For the more experienced sled heads who want more challenging runs and the thrill of backcountry exploration, many companies also offer unguided snowmobile rentals. With an unguided tour, you'll have the thrill of striking out on your own into untracked, snowy wilderness that offers all of the deep powder and gnarly terrain that a seasoned veteran could want. 
4. Old Forge, New York
The Adirondack Mountains are among the great treasures of New England, and Old Forge offers the best ways to see them from the back of a sled. Old Forge serves as a gateway to the entire 10,000-mile snowmobile trail system of upstate New York. It's located alongside the Tug Hill Plateau, which regularly receives 300 inches of snow per year, so it's easy to see why Old Forge has been a snowmobiler's haven for generations. And as the spot has built up its reputation, it's also acquired some long-running snowmobile-related events that make it something of a pilgrimage spot. 
Old Forge is known for having some of the best snowmobile events on the East Coast, with its annual Snodeo drawing some of the world's most skilled snowmobilers to compete in an all-out sled-stravaganza. For over 40 years, Snodeo has brought the folks who love snowmobiling most to one place to race, show off their skills, swap stories and make new friends. The event even includes its Kitty-Cat and 120cc race classes for the youngest snowmobilers to compete. 
And when March rolls around and other famous snowmobile areas are shutting down, Old Forge still has one last hurrah for sled heads: SnoFest, the snowmobile industry's major trade show. At SnoFest, snowmobiling's Big Four (Yamaha, Polaris, Ski Doo and Arctic Cat) debut their new models for next year and even offer demo rides in good weather. For those who are both snowmobilers and gearheads, there's nothing more exciting! 
5. Upper Peninsula, Michigan
The UP, as Michiganders call it, is one of America's true natural gems, with hundreds of square miles of untouched forests that offer amazing snowmobiling. The peninsula, separated from mainland Michigan by the vast and chilly waters of Lake Michigan, lets outdoor enthusiasts experience a kind of alternate-universe Michigan where industrialization never happened, as the whole of the peninsula is covered with primeval forest. 
Snowmobile enthusiasts can enjoy over 3,000 miles of snowmobile trails in the UP, and they'll also find plenty of lodging staffed by friendly folks and professional tour guides to help them experience the natural beauty in a new way. The peninsula includes numerous state and national wilderness areas like the Pictured Rocks National Lakeshore and Tahquamenon Falls State Park that offer the breathtaking natural beauty that the UP is known for. You can see many of them from the back of a snow cat thanks to the large network of professionally-maintained trails.
The UP town of Sault Ste. Marie also features the heart-pounding excitement of the International 500, one of the world's most important snowmobile race events. Since 1969, the world's best professional snowmobile racers flock to the small town to race at over 100 miles per hour along a one-mile oval ice track full of hair-raising banked turns, running a grueling 500 laps in total. It's the kind of event that tests even the world's most skilled racers, and the I-500 remains the event to beat if you want to establish yourself in U.S. snowmobiling. 
6. Chugach National Forest, Alaska
For those willing to make the trip all the way up to Alaska, Chugach National Forest offers a snowmobiling experience unlike any other. This far-northern wilderness of Chugach is located on Alaska's southern coast, and it doesn't have as much in the way of creature comforts as many of the other snowmobile spots on this list. But what it lacks in lodges and hot tubs, it makes up for through an incomparable variety and depth of natural beauty. 
Of course, it's not all roughing it at Chugach, and arctic explorers can find a variety of reasonably priced guided tours through the breathtaking Alaska landscapes. One of the best ways to get involved with the snowmobile scene here is to check out one of the many local snowmobiling clubs based in nearby Anchorage, such as the large and well-organized Anchorage Snowmobile Club. These organizations often put together fun snowmobiling activities for the community from December through April, offering the opportunity to get together with other snow cat enthusiasts in the Great White North. 
Finally, don't be surprised if you hear someone refer to your vehicle as a "snowmachine" while you're up here, as the term is common among Canadians and Alaskans. Those who choose to explore Chugach will find a lot of differences like that. Up here, everything is done just a little bit differently—but give it a little time, and you just might fall in love. 
7. Alpine, Wyoming
Some people know Alpine, Wyoming only as the neighbor of the more famous Jackson Hole area, but Alpine is an equally great—if not superior—destination for snowmobilers. Surrounded on all sides by the majestic Teton Mountains, Alpine is a snow cat paradise, and the fact that numerous pro snowmobilers make their homes there tells you all you need to know. Alpine's resorts are modest but comfortable, perfect for those who want to spend more time on the trail than partying. 
For those looking to get into snowmobiling for the first time, Alpine is a great place to do it, thanks to snowmobile clinics like the famous Next Level Riding Clinic. Both beginners and experts are welcome at these clinics, run by seasoned pro snowmobiler Dan Adams. From snowmobile basics to avalanche safety to terrain riding techniques, Alpine offers some of America's premier snowmobile education opportunities. 
8. Katahdin Region, Maine
At the very top of the continental United States lies the Katahdin region of Maine, the northern endpoint of the Appalachian Trail and also a legendary snowmobile spot. Baxter State Park provides the staging ground for most of the snowmobile action, and you'll enjoy dramatic views of Mount Katahdin, the park's namesake and centerpiece. Snowmobilers also love to visit Katahdin Iron Works, a disused 19th century iron foundry that provides a majestic (and slightly spooky) glimpse into the state's past.
Katahdin is another snowmobile destination that favors backcountry enthusiasts and the DIY crowd. Most trail grooming is done by local snowmobile clubs, and while you'll find some lovely lodges in the area, you won't get the all-inclusive packages of more developed destinations like Steamboat Springs. Just make sure to watch out for the famous and surprisingly common moose of Maine. They're rarely aggressive unless disturbed, but resist the temptation to approach one for a social media photo op! 
The fun of snowmobiling doesn't end even for those who have conquered all of the spots on this list. The U.S. is packed to the brim with amazing snowmobiling spots that are waiting to be discovered (so long as you've asked permission from property owners and park authorities).
To make sure that you stay safe and connected while searching for your next great backcountry adventure, remember to gear up with your most important winter powersports equipment, including a snowmobile helmet communication system from Cardo Systems that will allow you to keep in contact with all of your fellow riders on the trail. 
Our snowmobile helmet communicator systems use the latest in digital mesh and Bluetooth technology to keep your riding group in close contact throughout your ride. Snowmobilers will love the performance that our tech offers in blustery conditions and over distances up to a mile (for the Cardo Packtalk Bold and Cardo Packtalk Slim), as well as our devices' IP67 waterproofing ratings that keep them safe from snow and ice. Winter, summer, spring or fall–if you're feeling the joy of powersports, Cardo Systems is there to help you stay in touch.