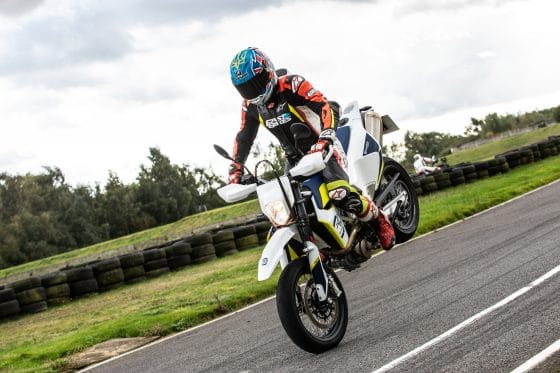 Are motorcycle intercoms useful for safety?
Responsible for testing key models from major motorcycle manufacturers and testing out the latest motorcycling kit means that the journalists at Fast Bikes magazine, based in the UK, spend much of their lives on two-wheels.
Traveling thousands of miles a year, either individually or with other members of the team, using the Cardo Systems PACKTALK Slim has proved 'incredibly useful for both safety and entertainment' according to Product Editor, Carl Stevens.
He continued: "We're always on the lookout for new and exciting products, and in my opinion, communication units are a must when on long trips, or doing road tests for both entertainment and safety. Especially when they don't consist of an ugly and chunky control unit – mine fits brilliantly onto my SHARK Race-R Pro."
"When riding, we can convey important information, like if there are any hazards coming up –  diesel on the roads or stopped cars. When stopping for photoshoots, we can spot on corners for each other too, which reduces risk. And most importantly, with the ability to talk to each other and listen to music, they make long trips feel a lot shorter!"
The JBL speakers that come as standard have also impressed
The 13-hour battery life means that long days aren't an issue when using the PACKTALK Slim devices and their compact sleek shape means that they don't stand out too much during photoshoots, maintaining the sporty look needed for the publication. The JBL speakers that come as standard have also impressed…
"I commute almost 200 miles to go to the office – and I do the same for every road test – the PACKTALK helps keeps me sane as I can listen to music, get sat-nav instructions and make calls. The long battery life is a big thing for me and also the clarity of sound – both ways – on a phone call. And I love the little 'hello, Fast Bikes' when it switches on…"
Carl and the Fast Bikes team plan to use the system for the big trips they have planned for 2021 in the UK and around Europe – with the PACKTALK devices being waterproof and dustproof, they know they are up to the task.
Check out Fast Bikes Mag online here.
---
Image: Carl Stevens, Fast Bikes