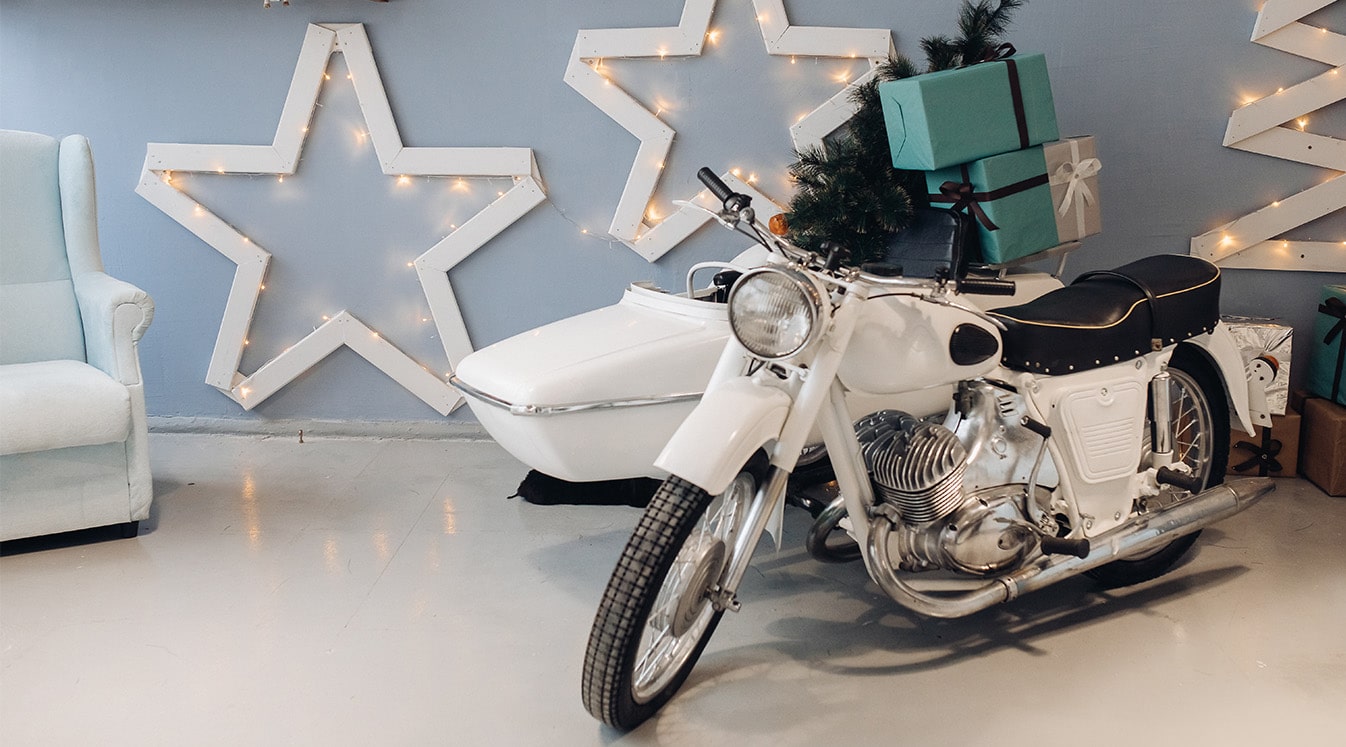 Biker Gift Guide: Unique Gifts for Motorcycle Riders
Motorcyclists tend to have an independent, individualist streak. They value what's unique and special, like the close relationship between a rider and a bike, or the incomparable feeling of gripping the throttle and taking off.
When you're buying a gift for the motorcycle rider in your life, you want to capture a little bit of what makes the experience so special and compelling.
That might sound tough to find, but there's a whole wide world of motorcycle-related merchandise out there. 
On the other hand, with such a huge array of gear and gifts to choose from, it can be challenging to sift through the options to find that one perfect present, particularly if you don't ride yourself. There's always the gift card option, but it can feel impersonal for some folks. And some major motorcycle purchases, like helmets, are better made by the person who will be wearing them. 
The motorcycle lovers at Cardo Systems have put together this handy list of gift ideas to jumpstart your gift-buying process for the motorcyclist in your life and give your gifts a unique and joyful zip. Whether you need a big gift or a small one, these 13 options never go out of style and are sure to be useful for your loved ones who prefer two wheels. 
1. Motorcycle Backpack
Any biker will tell you that you don't want just any old backpack on a motorcycle. You need something that's designed to be aerodynamic and create minimal drag. Lots of great motorcycle backpacks are now available in a wide variety of designs that make them perfect for many different kinds of riders. Styles range from slim and sport-oriented to more traditional and high-capacity models. 
Consider the gift receiver's height and weight when choosing a motorcycle backpack to give as a gift, as well as whether the rider needs features such as pockets for laptops, water bottles and other kinds of cargo. Adjustable shoulder straps and a hip belt are must-haves to help keep the backpack snug against the rider's body. Waterproofing is also a highly desirable feature that will help keep inclement weather from soaking the stuff inside the backpack. 
2. Motorcycle Tool Kit
If your motorcyclist is also a gearhead, a portable motorcycle tool kit can be a great gift. Motorcycle tool kits come packed with all of the most useful tools that a motorcyclist might need for a quick roadside repair. Pliers, torque wrenches, screwdrivers and more are all packed into these handy kits that can be rolled or folded up so that they fit easily into standard saddlebags or even a backpack. 
When buying any kind of bike tool as a gift, make sure that the tool will fit the recipient's bike. If you know what model of motorcycle they ride, getting a bike-specific kit may make sense. But if you want to be on the safe side, you'll usually be better off getting one of the many universal fit motorcycle tool kits that work on most models of bikes. 
3. Helmet Communications System
Group rides with friends and family can be one of the most fun and rewarding parts of riding a motorcycle, but it's key to stay in touch while on the road. A motorcycle helmet communications system is the perfect way to maintain communication during a ride, making the riding experience safer, more fun and more connected. These communications systems use technologies like Bluetooth or Dynamic Mesh Communication (DMC) to create intercom networks between riders in a group or riders and passengers. 
Cardo Systems specializes in cutting-edge motorcycle helmet communications systems that motorcyclists love for their power and flexibility. Models like the Cardo Packtalk Slim and Cardo Packtalk Bold use advanced DMC tech to create a crystal-clear communication network between up to 15 riders, while Cardo Freecom series uses Bluetooth to create a network of up to four riders. 
All of our models also offer hands-free, voice-activated phone calling and the ability to stream music and podcasts straight from a smartphone. And with our 2019 Packtalk models featuring JBL motorcycle helmet speakers, bikers can enjoy HD sound on the go, whenever and wherever. 
4. Handlebar Cup Holder
Refreshment on the road? A handlebar cup holder makes it not only possible, but downright convenient. These ingeniously simple devices clip onto a bike's handlebars and offer a full-sized cup holder to cradle a coffee, water, tea or beverage of choice. The best models are adjustable to fit different sizes of beverage, and many are downright cool-looking, with features like chrome finishes that set them apart from the crowd. Pair it with an insulated travel mug for on-the-go sip-ability whenever and wherever. 
5. Action Camera
These small but mighty cameras are designed to be mounted on a rider's helmet or handlebars and can take just about any combination of wind, water and general weather nastiness. They're a great way to look back at treasured memories of rides past, from hair-raising corners to breathtaking scenery, and can help riders identify their riding habits and improve their technique. And in a worst-case scenario, they can even provide helpful evidence to catch irresponsible drivers after an accident. 
While GoPro is the action camera brand that's familiar to most people, there are now plenty of other great brands on the market. Some feature impressive tech like 4K video, image stabilization and even live streaming. Whichever model you go with, make sure to grab a helmet or handlebar mount to go with the camera as well. 
6. Saddlebags
Saddlebags can make a great gift for a motorcyclist who loves to take longer trips on their bike. These versatile bags can be packed with clothes, shoes, riding gear, road snacks or even camping supplies for true wilderness road trippers. They often feature expanding zip-up designs that allow motorcyclists to squeeze more gear into them, since space is at a premium on the back of a bike. 
Much like with backpacks, waterproofing is an especially useful feature in saddlebags that you should strongly consider. For riders in wet climates, hardshell or leather construction is usually preferable to cloth. Also note that most saddlebag models are geared toward a certain type of bike, such as sport bikes or cruisers, so make sure that the type you buy is compatible with the type of bike that the gift recipient rides. 
7. Scale Model Motorcycle
There are plenty of great motorcycle gifts that aren't riding gear. Many people who ride motorcycles also love showing off their favorite bikes, as well as the process of building and tinkering with something. Scale model motorcycles are a fun and crafty gift that can do both by taking a motorcyclist back to their Hot Wheels days. 
Many different kinds of motorcycles are available as ultra-detailed scale models that look great on an office desk or in a man cave. You'll find everything from Harleys to sport bikes in miniature size, crafted with loving detail right down to each bike's specific engine parts. Some come pre-assembled and ready to go, while others require a few hours spent with model glue and a craft knife. 
8. Classic Motorcycle Movies
The classics of motorcycle culture also make great gifts. From genre staples like Easy Rider with Peter Fonda and Dennis Hopper to international films like The Motorcycle Diaries and The World's Fastest Indian, the history of motorcycle cinema is long and rich, and it offers plenty of awesome movies on DVD. You might even find a spot for goofy flicks like Ghost Rider if your motorcyclist likes their movies with a side of cheese—just remind them not to imitate the stunts. 
9. Motorcycle Lock
Unfortunately, stolen motorcycles are all too common—but you can help protect someone else's bike by giving them a sturdy motorcycle lock. Many different kinds of locks are available for all different varieties of motorcycles, and they can make great gifts. 
Disc locks and U-locks are two of the most common. A motorcycle disc lock is designed to slide over a disc brake rotor and snap into place, preventing the rotor from turning. A motorcycle U-lock, meanwhile, is similar to a bicycle U-lock and connects the bike's wheel to a permanently fixed object for improved security. 
For ultimate security, try a multi-piece lock kit that includes a disc lock for the bike's front wheel, a U-lock for its rear wheel and a ground anchor to provide a permanent locking spot in a garage or driveway. Many newer locks also include built-in alarm systems that produce loud noises and/or app notifications when disturbed. Finally, if you opt for a disc lock, you may want to throw in a reminder cable, a device that prevents the motorcyclist from damaging their bike by reminding them that the lock is still engaged before they try to ride off. 
10. Motorcycle Gloves
A good pair of motorcycle gloves is a must-have for safe and comfortable riding. Normal work gloves from a hardware store won't cut it. Motorcyclists need a tougher and more durable type of glove that will protect their hands in the event that they hit the pavement. 
When buying a pair of motorcycle gloves as a gift, remember that the best motorcycle gloves will have features such as: 
Constructed from resilient materials like leather

Palm grips

Breathable design that allows air to circulate

Waterproof construction 

Pre-curved design that makes it easy to grip the handlebars

Reinforced impact-resistant padding in critical areas like knuckles and finger joints
Tactical or military-style gloves are popular for motorcyclists, as they typically include many of these high-performance features. When in doubt, though, it's hard to go wrong with a pair of gloves that are specifically designed for motorcycle riding. 
11. Motorcycle Care Kit
Many motorcyclists are sticklers about bike maintenance, which makes a motorcycle care kit an ideal gift for those who can't stop polishing and waxing their bikes. A good motorcycle care kit will include all of the motorcycle care essentials, such as: 
All-purpose cleaner

Automotive wax 

Leather conditioner

Tire cleaner

Windshield cleaner

Microfiber towels

Metal polish
If you want to go a step further in helping the motorcyclist in your life pamper their bike, combine this with a gift certificate for a tune-up at their favorite mechanic so that the bike both looks and rides like new. 
12. Hand Warmers
Hand warmers are proof that sometimes the simplest gifts are the most useful ones. Disposable hand warmer packets use a simple, non-toxic natural reaction to gently warm skin. They're easy to tuck into gloves or boots, and their convenient warming power makes them popular among everyone from first responders to sports fans to, yes, motorcycle riders. Hand warmers are extremely cheap—just a few dollars will get you a big pack—and undeniably effective for warming up fingers and toes. They can even help ward off frostbite on extremely cold rides. 
Alternatively, reusable hand warmers offer a more long-lasting and sustainable solution. Some are powered by lithium-ion batteries similar to those that power smartphones, while others can be filled and refilled with butane (lighter fluid)—and despite what you might think, they're designed to be perfectly safe to keep in a pocket. Make sure to throw in a bottle of lighter fluid or a portable charger to keep the hand warmers charged when it matters most. 
13. Smartphone Holder
This gift is probably best reserved for someone whom you know will use it responsibly—we're thinking GPS and traffic reports, not Instagram and TikTok! That said, a smartphone holder mount can be an ideal way to help a motorcyclist enjoy the benefits of GPS while keeping their hands on the handlebars. (And remember that Cardo Systems' Bluetooth motorcycle helmet communicators also offer voice operation for smartphone integration that's completely hands-free!) 
Motorcyclists are passionate about what they love, which is why the best gifts for them capture that same fiery spirit. Even if you're not a rider yourself, keep that passionate and independent vibe in mind when shopping and you'll find something that will rev their motor.