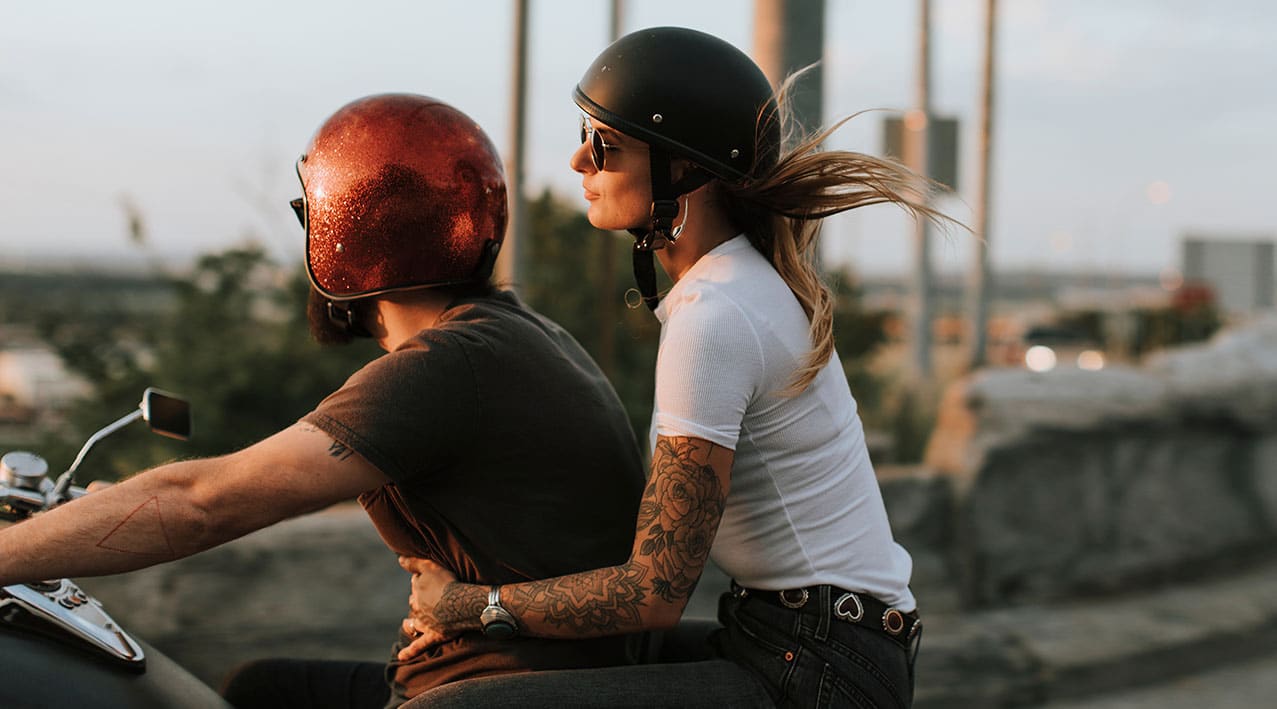 Date Night Drive: 5 Benefits of Rider to Passenger Motorcycle Communication for Couples
Couples who share hobbies are often healthier and happier, and there's nothing like that feeling of freedom, connection and intimacy that riding a motorcycle together brings. But in order to capture all those amazing things, you and your riding partner need a way to communicate easily and freely, without having to endlessly re-adjust finicky hand controls.
Fortunately, modern motorcycle tech has made it possible to do all this and more, and Cardo Systems' groundbreaking Bluetooth motorcycle helmet intercoms are the gold standard for couples' communication when riding. These five reasons will show you why bikers around the world trust Cardo Systems' helmet communication systems to enhance their passenger-rider experience and keep everyone safe while having a blast on the road.
1. Your ride will be safer.
Riding safely with a passenger means that both rider and passenger need to be able to communicate clearly and instantly. Motorcycle hand signals and shoulder taps can work, but they're not exactly precision communication, and it can be frustratingly difficult to communicate with the nuance you need when riding a bike together.
Quick communications, such as telling a passenger to lean into curves a little more or less, or warning a rider about a dangerous driver, can be super-important for a safe ride. That's why it's a great idea to grab a Cardo Systems Bluetooth helmet communication system that allows simple and intuitive voice-activated communication.
2. Your ride will be more comfortable and fun.
Your ride won't just be safer—it will also be more fun and more comfortable when rider and passenger can communicate easily. Need to stop for a bathroom break or a snack, or need the other person to adjust their position slightly? It's as easy as saying the words when you're using your Cardo Systems motorcycle helmet intercom. Just as importantly, you can point out the soaring scenery that makes riding in the country such a blast.
3. You can enjoy your favorite music and podcasts together.
Whether you're rocking out to heavy metal, cruising to the latest hits, experiencing the flow and beauty of classical music or enjoying your favorite podcast, your journey will be more fun when you can enjoy shared high definition audio.
Cardo Systems motorcycle helmet intercoms make it easy to stream audio media directly from your smartphone, meaning that you've got full access to all of your music, playlists and podcasts with just the sound of your voice. Best of all, high-definition speakers and advanced audio processor designs make sure that everything sounds crystal-clear and tightly defined for a more expansive and enjoyable sonic experience.
4. You can take calls together.
Mother-in-law calling with a change in Thanksgiving plans? Best friends calling to invite you to a night out? Whoever it is on the other end of the line, Cardo Systems' motorcycle helmet intercom systems allow riders and passengers to take phone calls hands-free and merge them seamlessly into existing DMC communication channels. And with our famous HD sound quality, you can say goodbye to "Say what?" and "Come again?" during your calls.
5. You'll feel more connected and share the experience together.
At the end of the day, it's all about connection when you're riding together. Without getting too hippy-dippy about it, it's about as close as you can get to being one body and one mind behind the bars, and when you're using Cardo Systems motorcycle helmet intercoms, every tight corner and thrilling burst of the throttle is an experience that can be shared. That's why we do what we do at Cardo—to help create the human connections that can only be formed on the back of a motorcycle.
The Best Motorcycle Intercoms for Couples
Cardo Systems' motorcycle helmet intercoms are designed to offer the most powerful and most flexible way for riders and passengers to communicate while on the road. Our Cardo Freecom Bluetooth motorcycle intercom series is an ideal choice for couples riding together, with high-quality Bluetooth connection, powerful hands-free interface and an extended range.
If your significant other is riding as your passenger, use the Cardo FREECOM 1+ for the best rider-to-passenger experience. Are you both riding your bikes? We suggest using the Cardo FREECOM 2+ intercom for seamless rider-to-rider communication. Additionally, if you decide to extend your date into a double date, your group can utilize the Cardo FREECOM 4+, which is the perfect communication device for up to 4 riders.
So many things in life are better when we do them together, and motorcycle riding is one of those activities for many people. Cardo Systems' Bluetooth helmet intercoms make it easy to get together and enjoy the world from the back of a motorcycle. And once you try them for yourself, you'll get the message loud and clear.