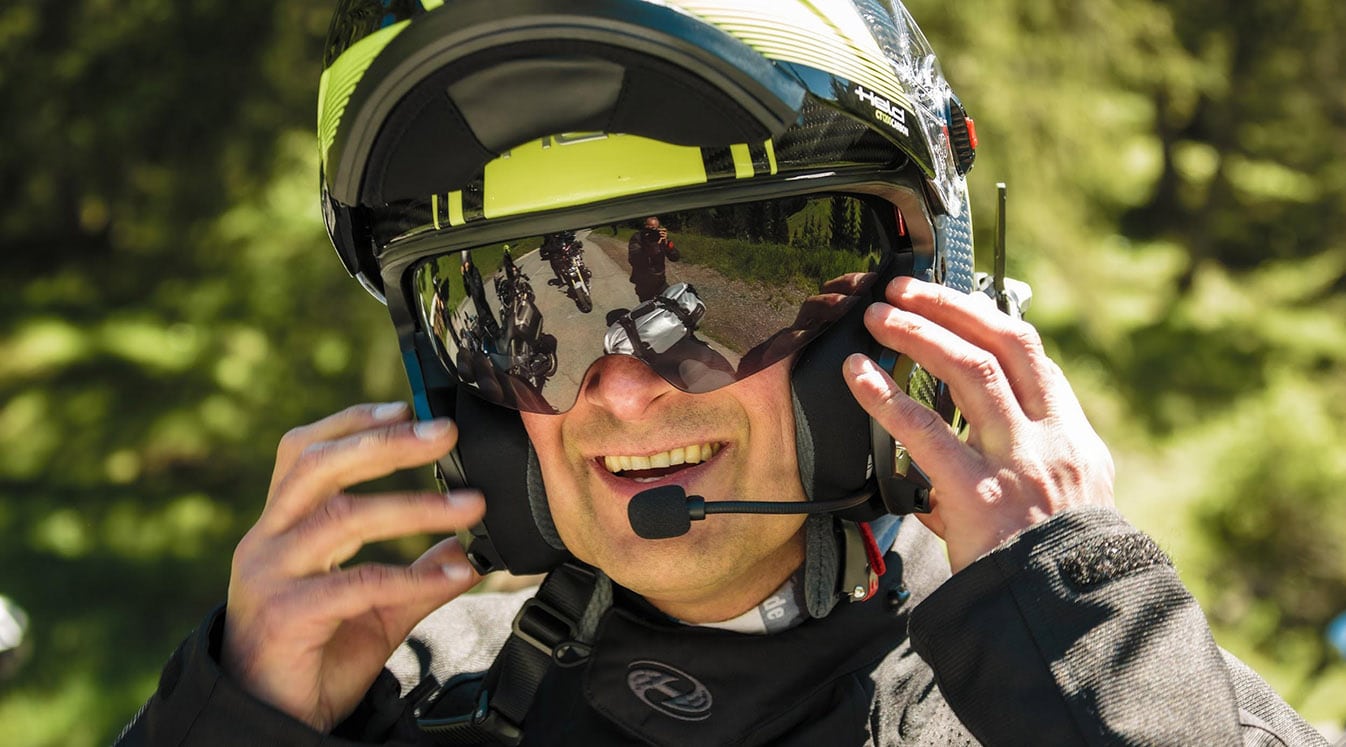 How Should a Motorcycle Helmet Fit?
A pair of shoes that doesn't fit quite right can give you a blister. A shirt that doesn't fit can make you look pretty silly and a wrong-sized hat looks downright goofy.  
But a motorcycle helmet that doesn't fit? That's no good at all. Whether too small or too large, a motorcycle helmet that's the wrong size can be genuinely dangerous. Helmets that are too large can come off in a crash, and helmets that are too small can give you headaches and double vision.
Unfortunately, some studies have shown that up to 25 percent of riders might be wearing an incorrectly sized helmet. So, how should a motorcycle helmet fit and how can you tell when the fit is just right? In this article, we'll answer these crucial questions. 
How Should a Motorcycle Helmet Fit?
Here are the basics of a proper motorcycle helmet fit: 
You should have to use the helmet's straps to pull it on completely. 

The helmet should be snug on your head, but not so tight that it causes you pain or discomfort. 

The helmet should place relatively even pressure on every area of your head. 

When you move your head or swivel your neck, the helmet should not change position on your head. 

If you use a

helmet communication system

, the

Bluetooth motorcycle helmet speakers

inside your helmet shouldn't be squeezed uncomfortably against your face. 
You can adjust the fit of most helmets by moving or swapping out the cheek pads, but get the fit right on the crown and forehead areas before you do this. 
Motorcycle helmets break in over time, so keep in mind that a new helmet (and you should always buy a new helmet) probably won't feel perfectly comfortable at first. What's important is to find a helmet that's the right general shape for your head. To do that, you'll need to get to know the shape of your own head a little bit better. 
Finding the Right Motorcycle Helmet Shape
The first task in finding the perfect motorcycle helmet fit is determining which helmet shape will match the shape of your head. There are three basic helmet shapes:
Long Oval: Long and relatively narrow

Intermediate Oval: Slightly longer than wide

Round Oval: Approximately the same length and width
Intermediate oval is the most common, but there's no telling for sure which head shape you have until you check. The best way to do it is comically simple: Have another person stand over your head while you're sitting and look at the shape of your head. If they can't tell, have the person take a picture from above. 
Measuring Your Head
Next, it's time to find out the actual dimensions of your head. Much like when you determined your head shape, it's easiest to have someone else do this. Ask the person from the last step to stick around and grab a tailor's tape measure. Have the other person measure the circumference of your head using this method:
Wrap the tape measure around your head. Start at a point approximately an inch above your eyebrows and continue around your head, keeping the tape measure an inch above your ears.

Have the other person record the measurement. 

Measure again (or three times if you need to) and take the larger measurement. 
Source: XiXinXing/Shutterstock
Finding Your Size
Once you have your measurements, it's time to compare them with a sizing chart from a motorcycle helmet manufacturer. Choose a motorcycle helmet brand with a good reputation and an aesthetic that you like and then look at their helmet sizing chart. It should be easily available on the manufacturer's website or any reputable site that sells motorcycle helmets. 
Note that each helmet manufacturer will have a different sizing chart. When looking at options from different brands, you'll need to look at the sizing chart from each individual brand. 
Evaluating How a Motorcycle Helmet Fits
Eventually, you'll need to try a helmet on for yourself and decide if it fits how a motorcycle helmet should fit. You might try a helmet on at a motorcycle dealership or store, or you might purchase one online and try it on at home. (Unfortunately, due to COVID-19, your local motorcycle dealer might not be offering the first option right now.) 
When evaluating a helmet's fit, keep in mind the standards we've already discussed, as well as these considerations: 
Does the helmet have ventilation features? Does it feel stuffy, or is there air circulation?

If you wear glasses while riding, does the helmet fit comfortably over them? 

Can you keep the helmet on for at least 10 minutes without becoming uncomfortable? 

Is the helmet DOT-approved? This is the bare minimum, but it's better to look for an ECE-approved or Snell-approved model. 

Does the helmet comply with your state's motorcycle helmet laws? (See our database of

motorcycle helmet laws by state

to find out.) 
If you've bought a helmet online that doesn't fit, return it. It's certainly annoying, but it's better than having a helmet that doesn't do its job.
Looking for some further guidance on your helmet-buying journey and how a motorcycle helmet should fit? Check out our guide to the types of motorcycle helmets for the low-down on the pros and cons of each type of helmet.