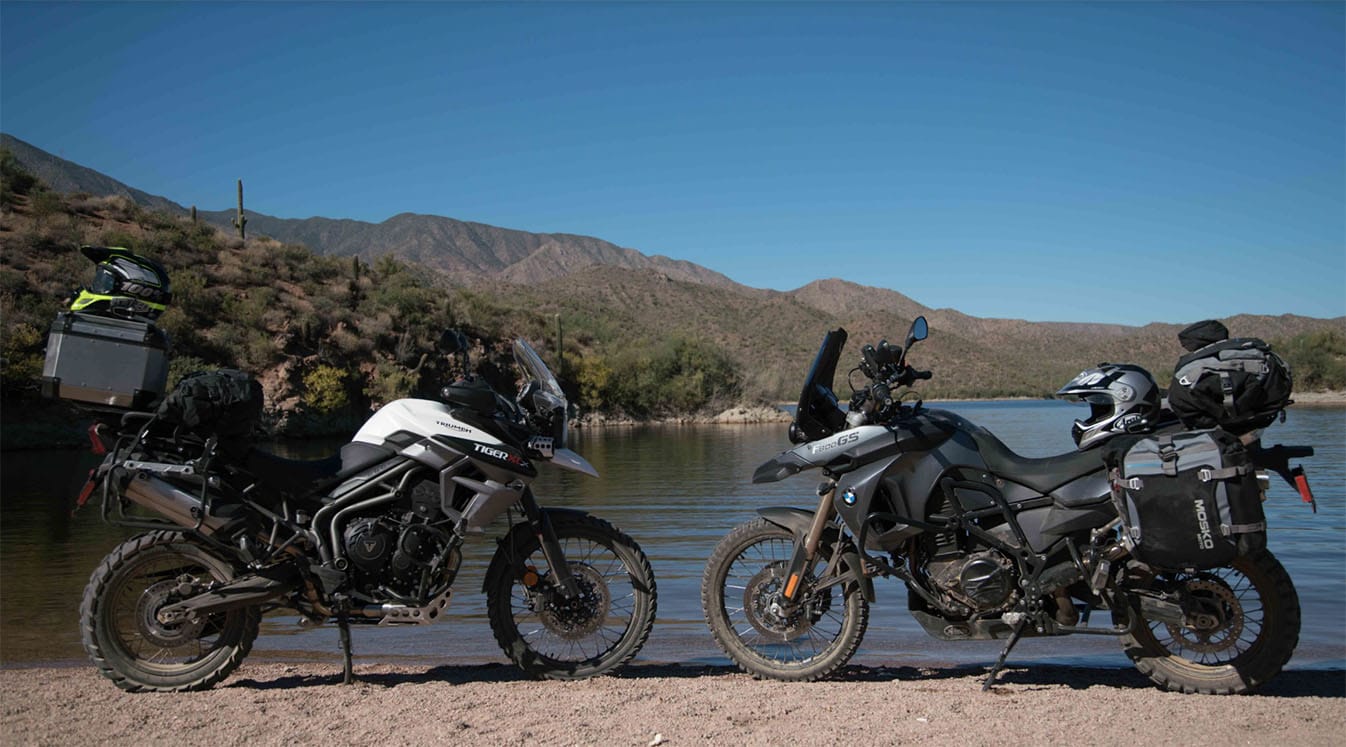 How to Mount a Backpack on a Motorcycle
Motorcyclists need to carry stuff, too. You might be heading out for your weekly grocery run, scooping up a sweet Craigslist deal or grabbing that last-minute birthday present for your significant other. Whatever the situation, it can be tricky to get your cargo moved to its destination safely and effectively. 
In today's article, we'll cover all of the must-know basics of moving and storing cargo on a motorcycle. From how to mount a backpack on a motorcycle to the numerous other options available, here's the rundown of motorcycle cargo carrying solutions. 
Wearing the Backpack
For riders going a relatively short distance with a small load (such as commuting to school or work), wearing a motorcycle backpack can be a solid solution. Notice that we said a motorcycle backpack because you'll be safer and more comfortable if you use a pack that's specifically designed for riders. 
Much as a motorcycle helmet intercom with helmet speakers is better than your AirPods, a motorcycle backpack offers improved performance for riders through its specific design features. Usually, these include a slim and aerodynamic profile, enhanced visibility features and breathable materials for long-term comfort. 
However, even with a well-designed motorcycle backpack, you're still carrying the weight on your own shoulders and back. That can cause pain and fatigue, especially on a long ride and/or with a heavier load. Wearing a backpack also makes it a lot harder to safely access your cargo while you're stopped at a light. 
How to Mount a Backpack on a Motorcycle
For longer distances or heavier loads, strapping the backpack to the back of the motorcycle can be a good way to go. If your motorcycle has a pillion seat and/or a sissy bar, these provide a prime place for mounting your backpack. 
But what if your bike doesn't have an obvious method for how to mount a backpack on a motorcycle? That's when you should consider a motorcycle luggage rack (also known as a pack rack). These metal or hard plastic frames can be mounted onto the back of your motorcycle, which then allows you to securely strap a backpack onto them using bungee cords or another type of secure strap. 
Luggage racks are one of the easiest and most versatile solutions for how to mount a backpack on a motorcycle. They also have the advantage of being compatible with different types of luggage. On many racks, you can securely strap anything from a backpack to a hardshell case onto a luggage rack, making it easy to store whatever you need. 
Tank Bags
A tank bag is essentially a backpack that's designed to hug a gas tank rather than a person's back. These semi-rigid luggage bags strap directly onto your gas tank using either straps, magnets or a model-specific mounting system. Some can be converted into a normal backpack by removing them from the tank and adjusting the straps. 
For frequent commuters who need something a little better than a backpack, a tank bag can be a perfect luggage solution. A tank bag saves your back and shoulders from the strain of a backpack, and many tank bags have higher storage capacities than a standard motorcycle backpack. Plus, they're easy to access when stopped, which makes it easy to get to your riding kit when you need a wet wipe to get that smashed bug off your helmet visor. 
Saddlebags
Saddlebags are another popular and economical way to move and store things on a motorcycle. These bags are made of reinforced semi-rigid fabric and attach to the sides or rear fender of your motorcycle. 
When adding saddlebags to a motorcycle, it's important to be aware of how they'll affect the bike's handling and horizontal clearance. Depending on where you mount your saddlebags, they may make your bike wider, longer or both, and these factors will change how the motorcycle handles. Take a test ride with your saddlebags fully loaded before you head out on any long trips. 
In addition, you need to choose a set of saddlebags that are compatible with your motorcycle's design. Make sure that your saddlebags aren't at risk of touching the rear wheel or the chain. 
Hard Case Storage
Some bikes, especially touring motorcycles like the Honda Gold Wing and Harley Road Glide, come with built-in hard case panniers. Most others have aftermarket panniers that you can purchase and add to your bike. 
Panniers are a great option for riders who need durable and versatile storage with a relatively high capacity. They're more expensive than other motorcycle cargo options, but they're also more durable, and many are waterproof to provide protection from rain and snow. 
Source: OlegRi/Shutterstock
Navigating how to mount a backpack on a motorcycle can be tricky, but once you've figured out a solution that works for you, you'll be able to cart your most important cargo just about anywhere! For more info on how to make sure you're geared up for your ride, see our pre-ride motorcycle inspection checklist or check out the full range of motorcycle communication gear from Cardo Systems.