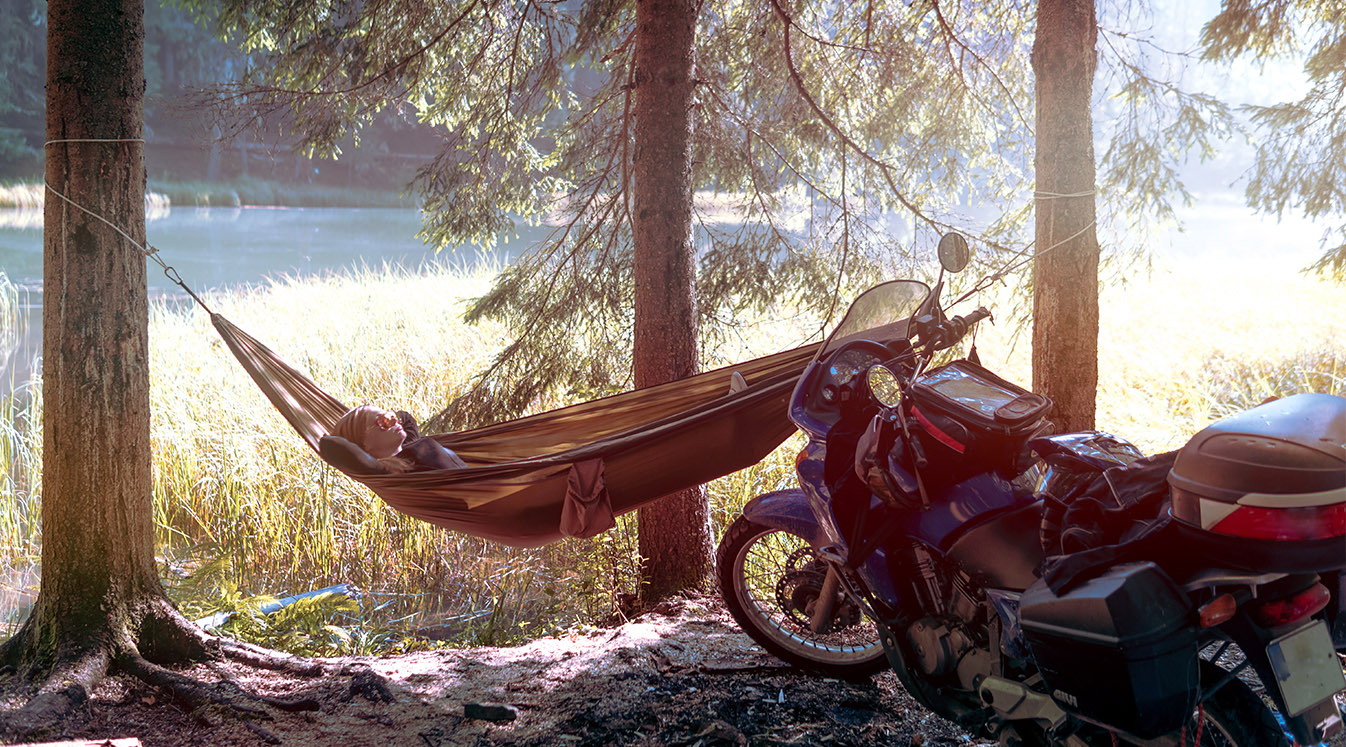 Minimalist Motorcycle Camping
Source: Sergey Nemirovsky/Shutterstock
Motorcycle camping is all about making do with less. You don't have the ability to pack in an RV or a pickup truck's worth of stuff like you might with a normal camping trip. It's just you and the contents of the ol' saddlebags.
That means that economizing is key. Everything you pack has to serve a critical purpose—and if something can serve more than one purpose, that's even better. 
It's time to dig into minimalist motorcycle camping and examine just how far you can slim down your kit. You'll need these nine essentials, in addition to normal things you'd need to bring when riding, such as your helmet and riding boots.
1. Tent
OK, so you could theoretically go without a tent in nice weather. But there are all kinds of reasons that it's still way better to use one, including privacy, protection from bugs and the ever-present possibility of unexpected weather. Find a tent that packs down small. Many manufacturers offer purpose-built motorcycle tents. 
The one exception to this is if you're bringing a hammock. Sleeping in a hammock can work and is a good option for motorcyclists due to the substantial amount of room you can potentially save compared to a tent. It's an especially attractive option if you have a smaller bike where you really need to economize your packing. 
2. Sleeping Bag and Pad
Even if you're camping in warm weather, a sleeping bag and sleeping pad will keep you comfortable through the night. This is another bulky item that you don't want to be without, so you'll want to decide on a sleeping bag early and plan your packing around it. If you're going the hammock route, grab an underquilt that's compatible with your hammock model instead. Finally, throw in a camping pillow. It might not be strictly necessary, but you'll be a whole lot more comfortable. 
3. Light
A headlamp is a great choice that many motorcycle campers swear by. They're small, durable, lightweight and convenient. The new wave of "tactical flashlights"—small, compact lights with an ultra-bright LED and a textured grip—are also popular for their strong beams and extreme reliability. 
Source: YimJi WK/Shutterstock
4. Multi-Tool
If you don't already own a good multi-tool, open your online shopping platform of choice and order one right now. No, seriously—it's one of those things that every rider should have, whether they're camping or not. You'll be glad you have one in your life. Grab one that's got camping essentials such as a fire starter and signal whistle. 
5. GPS
For motorcycle camping, a GPS system is more of an essential than a luxury. Fortunately, today's GPS models are more affordable than you might expect. Relying on your phone is usually OK for front country camping—just make sure to download a map in case your service goes out and bring a wireless charger. (It's not a bad idea to bring a compact paper map as a backup, either.) 
6. Change of Clothes
If you do somehow get wet, it's imperative that you have dry clothes to change into to avoid hypothermia. Bring an extra set of clothes and put them in a dry bag to keep them safe, even if it rains. Try to choose fast-drying fabrics. 
7. Food and Water
For a single-night camping trip, a couple of sandwiches and some instant coffee could suffice. Anything longer, and you'll probably rely on camping food staples such as ramen, canned food, dried fruit and granola. As for water, it's great to look for a site with drinking water available on-site so you don't have to tote it with you. If not, plan to boil your water or use iodine tablets to purify it. 
8. Fire Starter 
Put down the lighter fluid—you don't want it spilling all over everything else in your pack. Grab one of the many compact camping fire starters available, or (as mentioned previously) get a multi-tool that includes one. 
9. Motorcycle Communication System
A motorcycle communication system like the Cardo Packtalk Bold will be a worthy companion for you on a motorcycle camping trip. They're particularly important for communication if you're riding with a group or passenger. Even if you're rolling solo, a good set of motorcycle helmet speakers will allow you to stream your favorite media from your phone so you can enjoy it in the wild. They also take up no space in your pack, so in the end—why not? 
Planning a longer and/or more ambitious camping trip? Check out our complete ultimate motorcycle camping checklist to get the full list of gear that will make your camping trip a roaring success.