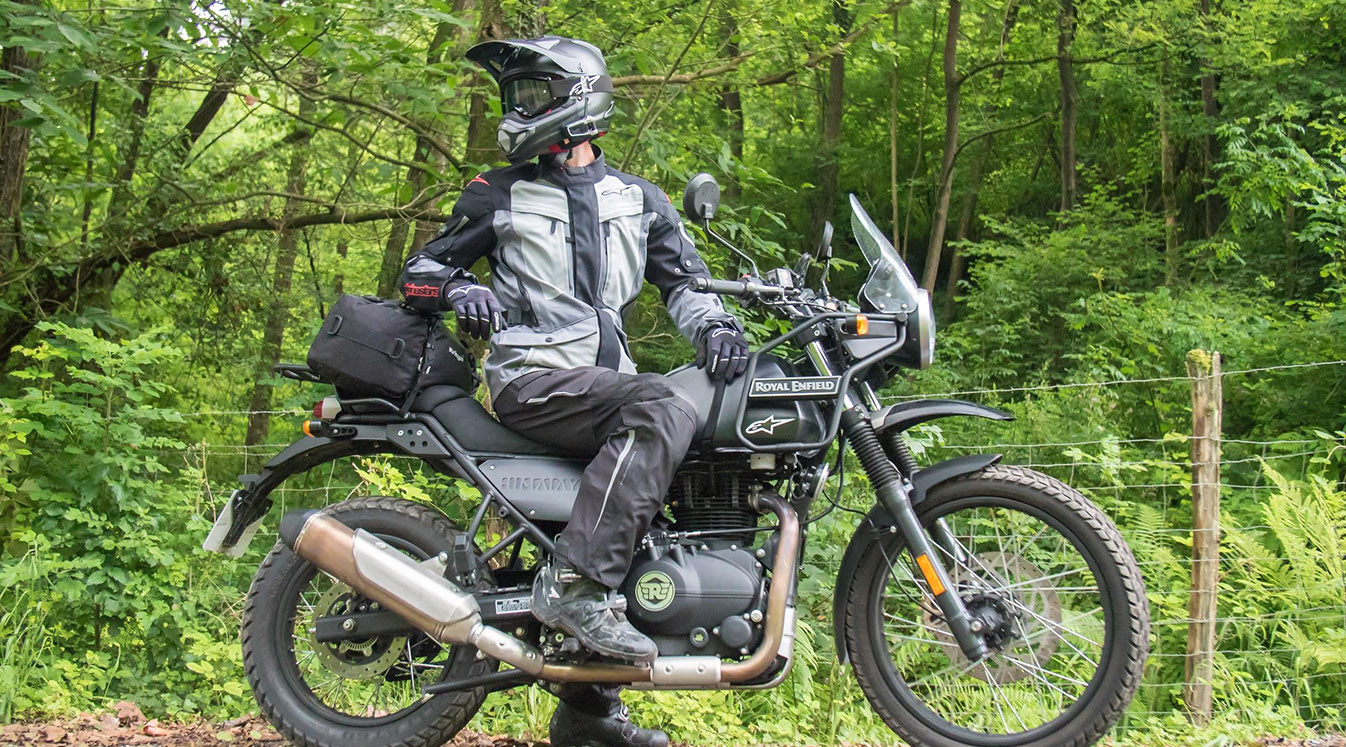 Motorcycle Handlebar Types: Which Is Right for You?
Check any motorcycle parts site, and you'll likely find dozens of different motorcycle handlebar types. Handlebars are one of the most common points for motorcycle customization, and they're critically important because they affect a lot of things about how the bike handles and how comfortable it is to ride. 
Different riders have wildly different preferences when it comes to motorcycle handlebar types, so it's important to be familiar with multiple styles so that you can find the best one for you. Below, we'll talk about the major motorcycle handlebar types, along with the types of motorcycles you'll typically find each one on. These six basic formats will show you what's out there in the world of handlebars. 
Tracker Handlebars
Tracker handlebars, so-called because they were originally developed for use in track racing, are a relatively neutral-shaped and versatile category of handlebars. They generally have a low profile with a gentle slope in the middle and are noted for being easy to install using a motorcycle's stock wiring. And, crucially, they're known for comfort and ease of control. 
Many versatile and "neutral" styles of handlebars fall into this category, including the stock handlebars that many bikes come with. If you're not sure where to start with motorcycle handlebars, start by looking at some tracker bars, as they also fit well on many different styles of bikes. 
Clip-On Handlebars
Clip-on handlebars are a common style of motorcycle handlebars that come in two pieces that mount directly onto the motorcycle's front forks. They're designed to make your bike more aerodynamic and provide a forward-leaning rider position. As you might expect from a design built for speed, clip-ons are most common on sport bikes, but the core design is versatile enough that similar models are available for cruisers, cafe racers and other styles. 
One of the best features of clip-ons is that many models are adjustable, meaning that riders can experiment with different heights and angles to find the ideal setting. However, some "faux" clip-on handlebars are not adjustable, so make sure you know which type you're looking at before making a purchase. There are also Clubman handlebars, a single-piece, non-adjustable alternative to clip-ons that feature a similar low-pitched and aerodynamic design. 
Drag Handlebars
A short and minimal motorcycle handlebar style that requires a forward-leaning position, drag bars are most commonly found on cafe racers, cruisers and choppers. They're designed to offer high maneuverability and make your bike more aerodynamic. The shortest styles, known as "zero drag" bars, are basically straight across, while some taller styles add a bit of an angle while still maintaining the low-rise, aerodynamic style. 
Like tracker bars, drag handlebars are notable for being simple and easy to install on stock wiring. They aren't always the most comfortable for long rides, though, so consider your needs as a rider and the needs of your bike before making your selection. 
Motocross Handlebars
As you might expect, motocross bars are the standard for dirt bikes and dual-sports. Most motocross handlebars have a low or medium-low profile that requires some leaning forward, but not to the degree that clip-on or drag handlebars usually do. Motocross bars are often designed with a cross brace that provides extra stability. 
Multiple motocross handlebar styles are available for the many types of dirt and motocross riders. Racers tend to favor lower and straighter bars, while trail riders often prefer slightly taller bars because they stand up more often. Freestyle motocross riders, meanwhile, usually have the highest and most curved bars, sometimes without a cross brace. 
Z-Bars
Z-bars are a versatile and popular motorcycle handlebar style that get their name from the sharp angles between the mounting points and the bend of the handlebars. They're a relatively low-profile design that invites a comfortable riding position, and they're great for riders who want a versatile and easy-to-handle style that works on most motorcycle types. 
The Z-bar style encompasses multiple styles, including the low-profile "Maynard" and the mid-rise "Zed." Related styles include the more aggressive-looking "Keystone," which features a horn-like inner curve, and the tall and curvy "Frisco," which is popular among cruiser bike owners. 
Ape Hangers
The goofy name of these handlebars matches their distinctive profile: long, tall and swept-back, with an angle that encourages the rider to lean back and hang onto them in a distinctly simian fashion. Ape hangers are an iconic style that are popular on cruisers and choppers, particularly Harleys, and they seem to go hand-in-hand with a wailing guitar solo blasting through your Bluetooth motorcycle speakers. 
Ape hangers certainly aren't everyone's cup of tea, and they take some practice to handle effectively. But for a certain type of rider (particularly those who enjoy choppers and custom bikes), they're the ultimate statement for your bike. For those who don't want to commit to a full set of ape hangers, "chumps," "buckhorn" and "breezer" bars offer a similar style at a smaller scale. 
Source: Alexander Kirch/Shutterstock
No matter what motorcycle handlebar type you're rocking, there's one key thing to remember: Keep your hands on them! That's a lot easier when you've got a good hands-free motorcycle communication system, so check out our motorcycle helmet intercom models like the Cardo PackTalk Bold that will help you keep in touch without fussing or fiddling while you ride.