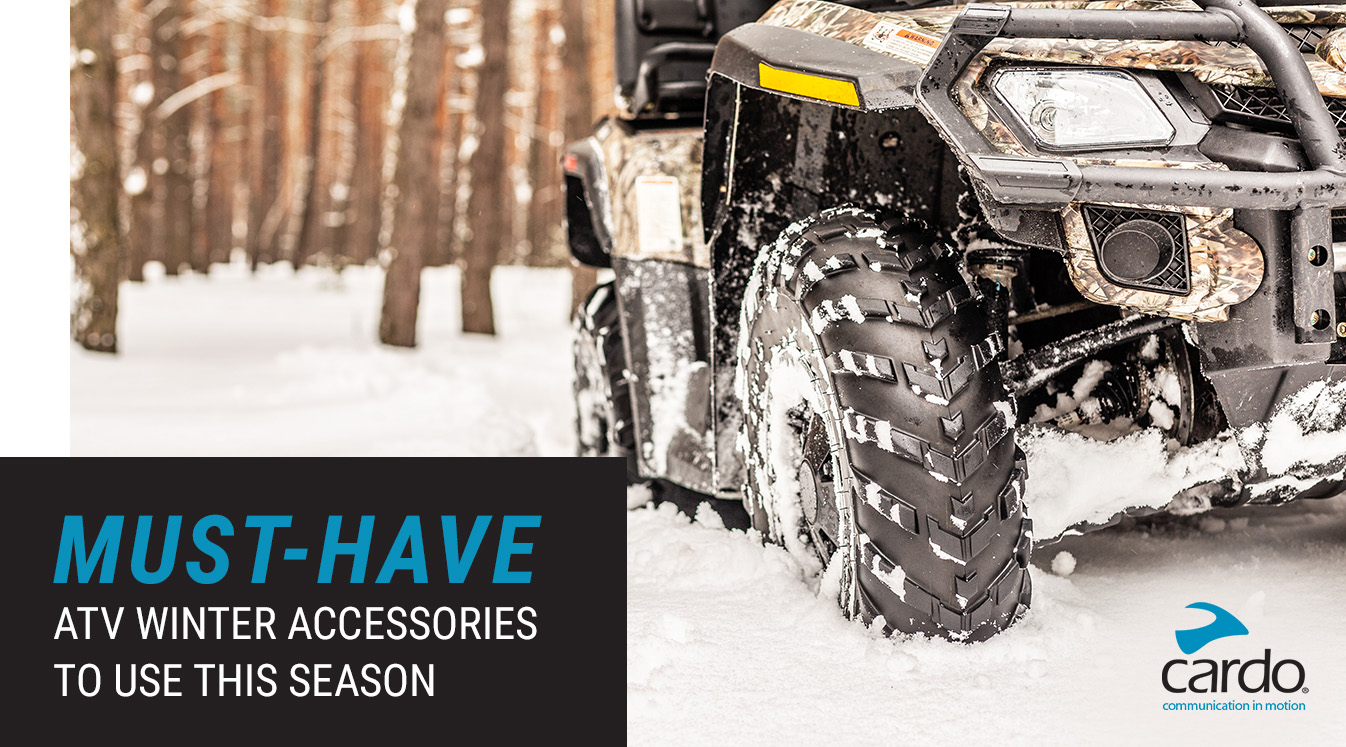 Must-Have ATV Winter Accessories to Use This Season
Winter can be an awesome time to be an ATV rider. While other powersports vehicles are grounded until warmer weather, your quad is just getting warmed up. You're ready to go exploring, trail riding or hunting—or maybe you're getting ready for a season's work. But if you're going to be revving all winter long, no matter what activities you've got planned, remember to be prepared. Riding an ATV in the winter requires a little more gear than other seasons, so don't go in without a kit that'll protect you and your quad. 
If you're just starting to ride in the winter, it's critical to have the right gear from the beginning in case something goes wrong—and even if you're an old hand, it's good to refine your kit and ensure that you've got everything stocked and prepared.
Because Cardo Systems is a company for all kinds of powersports lovers, we've created a quick and helpful list of gear that will make your winter ATV ride safer and more fun. Some are best for riders in locations with extreme cold temperatures, while others are essentials for any winter ATV rider. Take a look at our list and start putting together your perfect kit. 
1. Winch and Tow Strap
No matter the season, it's always essential to have a winch available to get your ATV out of a rut. But with snow potentially in the mix, it becomes an absolute must-have. Make sure that the winch you get is rated for the weight of your quad and look a "tree saver" strap that allows you to hook your winch to a tree without damaging the tree. (After all, that tree is doing you a pretty big favor.) 
A tow strap can also be a lifesaver to have in case your ATV becomes disabled and has to be towed, so keep one at the ready in your kit. Again, look for one with a weight rating that can comfortably accommodate the weight of your ATV with some room left to spare. 
2. Insulated Waterproof Gloves and Boots
Cold, wet hands and feet are no good—at all. Not only are wet fingers and toes much more vulnerable to frostbite, but they also impair your dexterity and make it harder to operate your ATV. To avoid letting your hands and feet suffer, you'll want to make sure you have some high-quality gloves and boots that are designed to protect you. 
Gloves should have a waterproof exterior, preferably a material like Gore-Tex, with a warm liner inside and cuffs that cover your whole wrist to prevent water from sneaking in. Boots, meanwhile, should feature a sturdy material like leather or nylon and a shape that's comfortable for both on or off an ATV. If you live somewhere with snowy or rainy winters, a tougher boot with waterproof construction is a must, while someone in a drier area may be able to get away with regular riding boots and some extra-thick socks for warmth. 
3. Face and Head Protection 
In winter temperatures, your face and head can easily lose a lot of heat quickly. To keep them securely bundled up, find the level of face and head protection that's right for you. Riders in warmer climates might only need a beanie and some safety glasses in winter, while colder weather might call for something more complete, like a balaclava. Either way, make sure whatever model you go for fits comfortably under your helmet. (You do already wear a helmet when you ride your ATV, right?) 
Using goggles or safety glasses when you ride is always a great idea to protect your eyes from sticks, rocks and other debris that might get thrown up by the quad's wheels. In the winter, an insulated pair of goggles can also help keep your vision clear and your eyes comfortable in the cold. Fog on the inside of goggles can be a particularly dangerous problem for wintertime riding, so go for a pair that feature a double-lens design to keep your vision unobstructed.
4. Heated Grips and Seat
If you're going to be out on your quad for long periods in cold temperatures, you'll thank yourself for investing in heated grips and/or a heated seat. Most heated grips and seats are relatively simple to install, fit a wide variety of seat designs and come pre-packaged with wire harnesses that make them essentially plug-and-play. If you're out on a frigid day, these can help keep your fingers and body from losing dexterity and give you a more comfortable ride. 
5. Handlebar Mitts
Sometimes also called gauntlets, handlebar mitts are a classic for cold weather ATV operation. One end wraps around the ATV's handlebars, while the rider inserts their hand into the other end, offering a cozy and comfortable way to control your ride. They're a great option if you need to wear a lighter pair of gloves for manual dexterity, but want the warmth of a heavier pair. Grab some handlebar covers and stash some hand warmers inside them for an easy and cost-effective way to keep your paws toasty. 
6.

Track Kit
An ATV snow track kit can be the perfect way to boost your quad's performance in seriously snowy or muddy conditions. These kits replace an ATV's tires with track systems that offer improved performance on deep snow or other rough terrain. The thing is, most ATVs aren't designed to run tracks–which are a lot heavier than wheels–so the devices can be somewhat complex and challenging to install. Make sure to do your research on which track models are compatible with your ATV. Finally, track kits also aren't cheap, so they're best for those who want to invest in an ATV that will see a lot of action in backcountry conditions. 
7. Hard Cargo Case
Most people aren't crazy about their stuff getting soaking wet and freezing cold, and if that's the case for you, a hard cargo case for your ATV is a good idea. Most models can be easily attached to your rear cargo mount and feature tough waterproof designs that keep your most important gear safe inside. Today's models are made of lightweight materials like polyethylene that are super-light while being resistant to just about anything thrown at them. They also come in tons of different shapes and sizes, so you can choose the capacity you need–from some basic emergency supplies to a full camping kit.
8.

Snow Plow
We all know that shoveling the driveway is a lame way to spend your day, so try adding a snowplow to your four-wheeler for a DIY plowing solution. Tons of different models and designs are available on the market right now, including some that use an ATV's front winch for lifting the blade and others that use a manual lever system. Your quad bike may also already have equipment mounting brackets on the front of it, in which case you should look for a plow that's designed to be compatible with them. (Your manufacturer may have recommendations.) 
9. Layered Winter Clothing
If you're a seasoned outdoors person, you probably know that layering is a major key for staying warm during a winter adventure. The basic principles of layering aren't hard to master. You've got three essential layers—the base, the insulation and the outer. The base should be a moisture-wicking thermal, like one of the many brands of sport long underwear available. The second layer is typically an insulation layer, like wool or synthetic insulation, and the outer layer is a waterproof shell to protect against rain, snow and sleet. Using this setup, it's easy to remove layers as you warm up and add them back on if you get too cold. 
10. First Aid Supplies
This one's a no-brainer. Accidents do happen, and you never know when the need for quick action will arise. For that reason, first aid supplies should be something you always pack in your kit for ATV riding. Compact first aid kits are available that can slip easily into your hard case, meaning there's no excuse not to have one at your disposal when you need it most. Make sure that your first aid kit includes cold-specific items like hand warmers and a warm blanket. 
11. Flashlight
"But I'm only riding in the daylight!" You think so now—until you've gotten turned around on a trail with only an hour of the shortened winter day left, and you're not quite sure where you are. Everyone thinks it won't happen to them, but if it does, a flashlight can quite literally save your life. It's also useful to have one when you're troubleshooting a mechanical problem on your ATV at any time of day. Try one of the small LED tactical flashlights widely available online. Many will give you tremendous bang for your buck, along with great features like adjustable settings to conserve battery power. 
12. Snacks and Hydration
The cold can wear you out a lot faster than you might realize, so don't get caught without the fuel you need. Take a few minutes to grab a handful of water bottles or sports drinks, plus some easy snacks that are rich in nutrients to fuel your body. Beef jerky, granola bars, trail mix or even portable hummus packs are all great choices for outdoor winter snacks. Avoid alcohol and excessive amounts of caffeinated drinks—they do more harm than good. 
13. ATV Covers or Tarp
If you're parking your ATV outside, a cover can be a great investment to help keep it free of snow, ice, dirt and other outdoor invaders. These covers are widely available, inexpensive and fit a number of different ATV models. And of course, if you want to go classic, a simple tarp is as tough and versatile as they come. 
14.

Snow Tires 
If you know you'll be riding on snow a lot this winter, it might be a good idea to pick up a set of ATV snow tires. You might think something like deep-grip mud tires would provide the best traction, but what you want is actually closer to sand paddle tires since they minimize wheel spin and provide the smoothest ride over the snow surface. Many manufacturers now offer tires designed specifically for snow and ice. However, if your area only gets occasional snow and/or you don't do a lot of off-roading in freshly fallen powder, you'll most likely be okay to stick with your regular tires. 
15. Wireless Communication Systems
A group ATV ride can be an awesome way to get out and enjoy some wintertime scenery with your friends and family, or you might be working in a group of other ATV riders. Either way, an ATV communication headset like the Cardo PackTalk is the perfect way to stay connected. These small and convenient headsets clip directly to your helmet and use Dynamic Mesh Communication technology to give you crystal-clear communication with up to 15 other riders at a range of up to a mile. Riders can drop in and out as needed without having to re-sync their ATV communication systems, and hands-free controls make communication both safer and more convenient. 
If you're rolling solo, meanwhile, consider a model like the Cardo Freecom 1+. This awesomely lightweight Bluetooth ATV headset will let you answer calls, use GPS and listen to music hands-free inside your helmet. It's perfect for a long solo ride through your favorite trails with your favorite music, or for a tough day on the job when you need to take calls whenever and wherever.
Ready to take the winter on from the back of your favorite four-wheeler? Take your time to make sure you've got the right kit assembled before you head out. We at Cardo wish you happy exploring, safe travels and a powersports lifestyle that keeps gas in your tank.