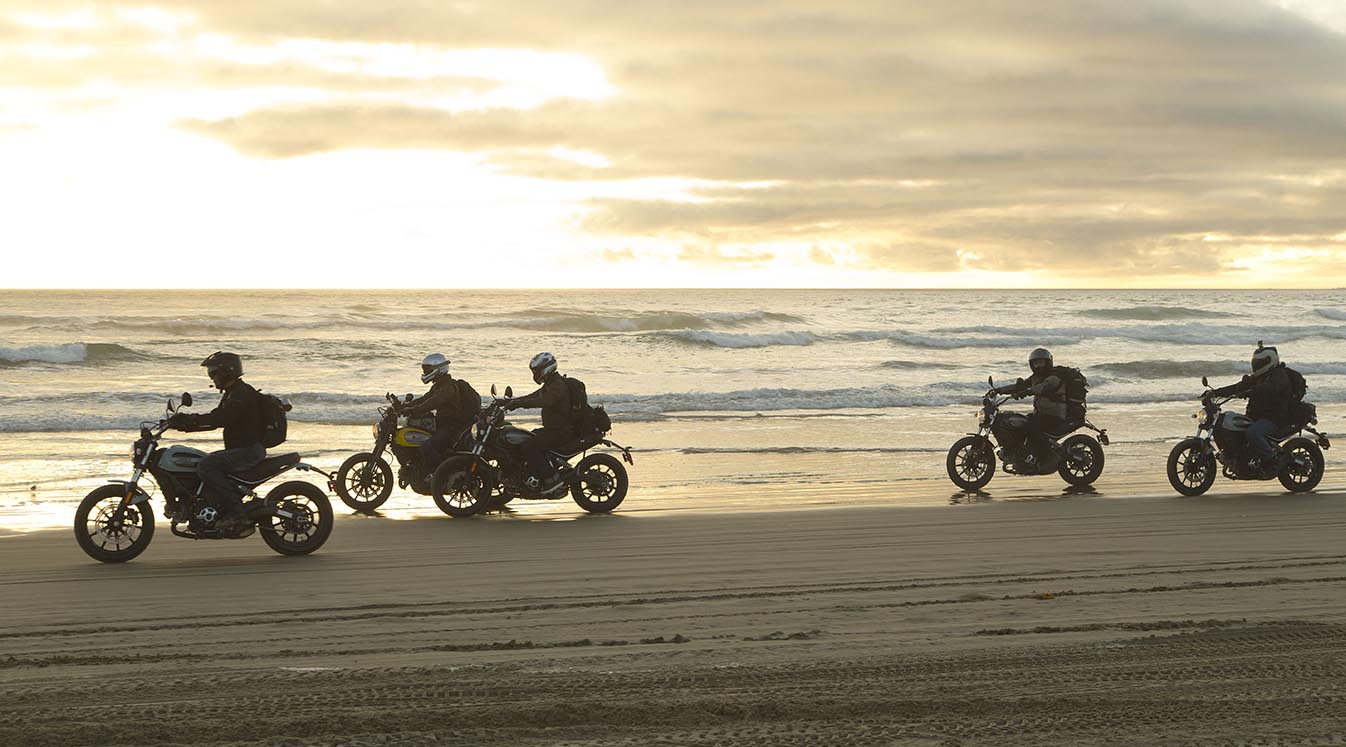 Our Top Choice Motorcycle Trip Planners
Planning a motorcycle road trip can be incredibly exciting. You can start to imagine legendary scenery, the feeling of the breeze whipping around you and the sound of your machine roaring down the road. 
But there's no denying that planning your motorcycle trip can also be a stressful process. There are hundreds of variables to consider, and some of them are complex. Which roads are safe for motorcycles? Which areas contain must-see sights? Where are you allowed to camp with your bike? 
That's why there are now many different kinds of motorcycle trip planner resources available. Some are websites and apps that collect many different relevant factors into databases that you can use to create the perfect road trip itinerary. In contrast, others are tour guide companies that will handle the whole process for you. In this guide, we'll show you 11 different resources you can use to tackle planning for a motorcycle trip. 
What to Look for in a Motorcycle Trip Planner
Let's start off by thinking about the aspects that you should be looking for in a motorcycle trip planner resource: 
– Maps and Routes: This is the primary function of most motorcycle trip planning sites. Maps show you the layout of a local area where you might want to ride, and routes show you the path that you could take through it. 
– Attractions: You'll get more out of your trip if you can find the fun stuff to do along the way. Many trip planning sites include information on natural areas and other interesting places to stop on your journey. 
– Ratings: On many motorcycle trip planning sites, other riders will review certain roads or routes. You can find out a great deal of information about notable features, key safety tips, local secrets and more. 
– Community Discussion: Many motorcycle trip planning sites also include forums for community discussion of the best routes. Spend some time browsing these, as they can give you some important insights into which routes you'll enjoy the most. 
– Some motorcycle trip planning sites also offer the option to set up guided motorcycle tours that include a planned route and bike rental. This is a great option for riders who want the added benefits of professional guidance and pre-arranged accommodations for their next touring ride. 
Now, let's look at some of the best motorcycle trip planner options and what makes each one special. 
1. Motorcycle Roads
Motorcycle Roads is a popular trip planning site with a clean interface and tons of content. The site's centerpiece is its route guides and maps, which cover hundreds of routes in states across the U.S. (and even a few from foreign countries), plus route reviews from other bikers. Many popular routes have dozens of reviews each. You'll find insights on where to eat, what to see and how different types of bikes perform (and even some occasional spicy back-and-forth between site users).  
As if that weren't enough, MR also offers listings of motorcycle events, motorcycle clubs and motorcycle-friendly spots in almost every state. Wherever you're riding, you'll likely be able to find a variety of great roads to explore, things to do and other riders to link up with. 
2. Harley-Davidson Ride Planner
Whether or not you're a devotee of their machines, Harley-Davidson offers some cool and easy to use ride planning tools on their site. All you have to do is add the start and endpoints of your ride and the H-D Ride Planner will show you useful information about what's in between. Once you've got your origin and destination entered, hover over any area along the way and click "Search This Area." You'll get instant results for lodging, food and scenic attractions in the vicinity. 
And of course, if you're interested in experiencing hog culture across America, this is the app for you, as it doesn't hesitate to show you the location of every Harley dealership along the way. Membership in the Harley Owners Group (HOG) also opens up cool new app features, such as seeing where other bikers have visited. 
3. MotoWhere
MotoWhere is another trip planning site that stands out for its smooth, Google Maps-integrated user interface and its international user base. The interface is similar to the standard phone maps that most of us use every day, but packed with features that motorcyclists will find useful. Getting started is as simple as scrolling around your chosen area and checking out the many routes that pop up on your map. 
In addition, unlike some sites that cater mostly to U.S. riders, MotoWhere also has a significant base in Canada, Australia, Germany and other Western countries, making it great for riders who want to see the world. MotoWhere also just launched two more service offerings: Live Ride, which allows users to share their locations in real-time via GPS, and a discussion forum where members can swap their best route tips and become part of a friendly online community.  
4. America Rides Maps
Many motorcycle riders love to keep it old-school and analog. If you scoff at the idea of relying on a GPS for navigation, America Rides Maps could be your new best friend on your next road trip. This company makes high-quality road-ready map books that are designed for motorcycle riders by motorcycle riders. 
America Rides Maps are created by expert riders who have been everywhere and back and, consequently, they're packed with detail and cool sights that you might miss otherwise. The company offers pocket-sized map books that slip easily into a tank bag, as well as full-sized premium maps and discounted map multi-packs. And if you're looking to take your dirt bike or adventure bike out into the backcountry, they even offer maps of unpaved roads in popular areas like the Great Smoky Mountains. 
5. Edelweiss Bike Travel
If you prefer to have someone else take care of the details so you can enjoy the ride, a motorcycle travel company like Edelweiss Bike Travel might be just your speed. Since 1980, Edelweiss has cemented its reputation for creating world-class motorcycle tours by offering the latest and most well-maintained bikes and hiring the most dedicated and passionate tour guides. That commitment to excellence means tour guests will get the experience of a lifetime, without the hassle and stress of planning a motorcycle tour themselves. 
Edelweiss prides itself on offering handpicked routes and accommodations in the world's most stunning places, from Austria to Morocco to New Zealand. And for those who want to take on the ultimate challenge, there's always the World Tour, the granddaddy motorcycle tour of them all that spans all six inhabited continents. 
6. Best Biking Roads
Although their web design isn't what you'd call fancy or contemporary, Best Biking Roads is a large and active community that's dedicated to one thing: Riding the best rides. It's another community with a large international following, and BBR's site boasts a wealth of routes through Europe and Australia, and even a few through Asia and Africa.  
BBR also partners with motorcycle rental companies, hotels, hostels and bed and breakfasts to give motorcyclists the best resources when they're on the road. (These listings are mainly focused in Europe, with options a bit slim for the rest of the world.) The folks behind BBR also offer a mobile app that allows you to take the site's wealth of knowledge with you during your travels. 
7. Calimoto
Calimoto is a motorcycle trip planning app with a feature that's increasingly a must-have for motorcyclist apps: an algorithm that automatically selects a route that's full of twisting roads and scenic views. That makes it the trip planning app to use if you want to truly dig deep into the art of finding the perfect ride. 
What's more, Calimoto offers tracking of statistics, like speed and angle, throughout your route so you can go back and analyze your riding habits in depth. Since the app works through your phone, it's also easy to hear directions through Bluetooth motorcycle speakers like the Cardo Freecom series when paired with your mobile device. 
The app does unfortunately have some drawbacks — for example, it can't plan trips over 3,000 km. But if you're looking for a motorcycle navigation app with all of the cool features you could desire, Calimoto is head and shoulders above the rest. 
8. Waze
Although it isn't motorcycle-specific, Waze is a navigation app with a lot to offer bikers. In many respects, it's just like Google or Apple Maps. Pop in your starting point and destination, and you'll find a complete guide for getting there. Along the way, you can add stops for food, gas or other roadside essentials, and the app integrates well with the voice command modules in most motorcycle communication systems. 
What sets Waze apart is that its information is crowdsourced. Other drivers and bikers note where they see accidents, roadway hazards, heavy traffic or speed traps, which makes it easier to steer clear of these things during your ride. Waze has even added features like motorcycle-specific routing to make sure the roads you're on are rider-ready. 
9. REVER
REVER is one of the newest and most advanced motorcycle navigation apps. It features two main functions: ride planning and ride tracking. The planning functions feature a buttery-smooth interface that's bursting with options, such as the ability to categorize roads from paved highways to dirt trails. 
Thanks to its integration with the leading motorcycle map makers at Butler Maps, it offers off-road tracks that most other maps miss, as well as specialty options like snowmobile tracks. You can even download your route maps to your phone so that you can use them offline, which means you never have to worry about losing your map when your cell service goes out. 
The other half of REVER is a ride tracking app, and it's just as intuitive and smooth as the ride planning function. Just hit the ride tracking button before you start and your entire ride will be recorded so you can remember your route later and share it with friends. If you like the ability to statistically analyze your rides, REVER also provides some tracking functions for stats like speed and elevation. 
10. Scenic Motorcycle Navigation
The Scenic Motorcycle Navigation app is an all-in-one monster that provides tons of benefits for the biker who wants to enjoy taking the long way. It offers the curve-seeking navigation of apps like Calimoto, plus the ability to import maps in a variety of formats from other programs. Scenic even offers offline navigation so that you'll never be afraid to venture onto the backroads. 
Scenic also has a powerful and intuitive voice guidance system that provides audio navigation through your Bluetooth motorcycle helmet device. Finally, it includes all of the requisite features for stat-heads, including average ride speed, how much you ride different bikes and more. However you like to ride, Scenic will give you tools for a more enjoyable journey. 
11. EagleRider Rentals & Tours
EagleRider is another premier motorcycle tour and rental company that allows riders to experience some of the world's greatest routes from behind the handlebars. They're noted for their impressive selection of motorcycle brands, as well as their self-guided tour packages that dispense with the tour guide but still offer the comfort of pre-selected hotels and a well-planned route. 
Many of EagleRider's most popular routes are in North America. Some of their best include Western tours that cruise from LA to Vegas and hit notable national parks along the way, as well as their New Orleans to Washington, D.C. route that showcases the best of the American Southeast (including the infamous Tail of the Dragon). However, they also offer great international tours for popular motorcycle destinations like Japan, Australia and the Alps. 
Ultimately, the best motorcycle trip planner is the one that fits your needs the best. Try out a couple of different options and figure out which one you find most useful and easy to operate. Whether it's a state-of-the-art website, a company of passionate tour guides or a lovingly crafted map, you're sure to find an option that will make your next riding trip your best yet.