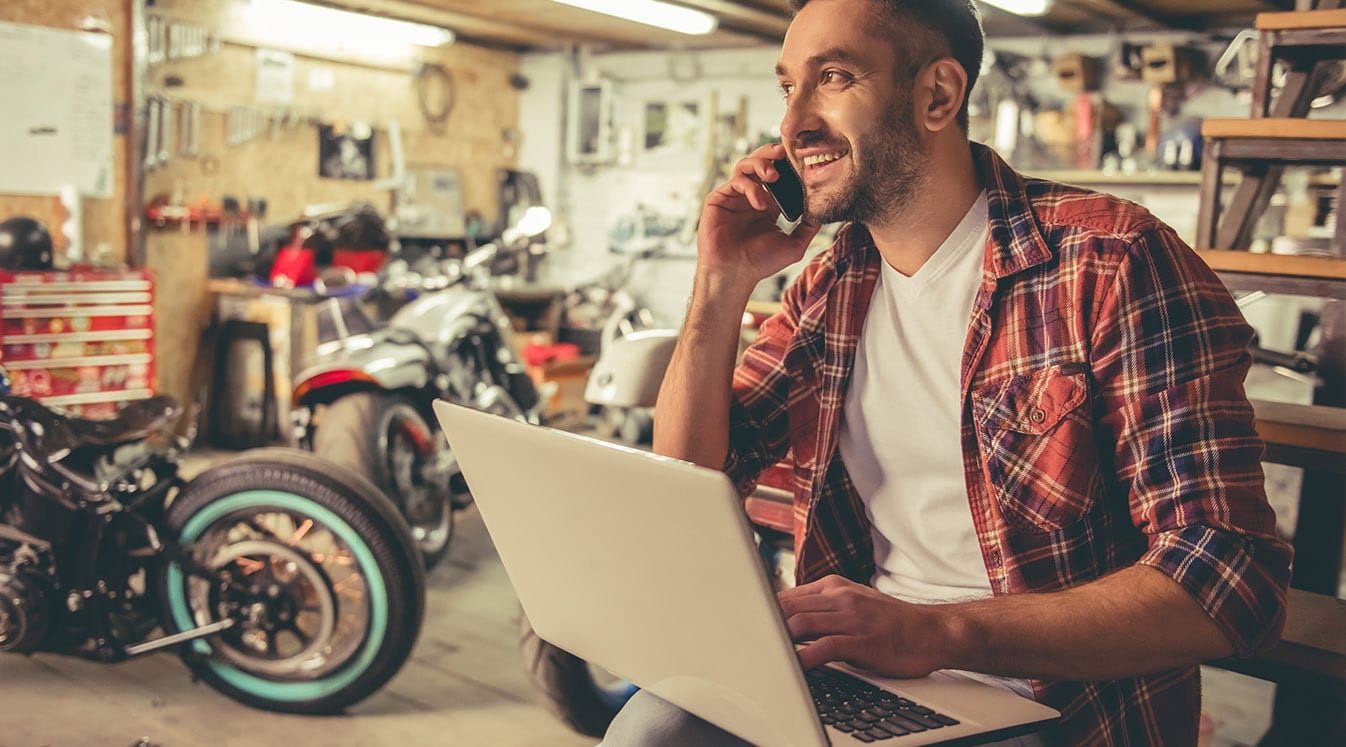 The 8 Best Motorcycle Gadgets to Know
Source: George Rudy/Shutterstock
As a rule, motorcycle lovers tend to be a gadget-loving lot. Many of us are constantly upgrading our bikes with new parts and our riding outfits with the latest and most stylish protective motorcycle gear. So, it makes sense that we're also frequently seeking out the gadgets that will make our riding experience safer and more comfortable. 
You might be a rider looking for practical gear to improve your two-wheel experience. Or you might be someone looking for the best gifts for motorcycle lovers. Whatever brings you to your interest in the coolest motorcycle gadgets around, you've come to the right place. 
These eight motorcycle gadgets are some of the best that modern motorcycle tech has to offer. Whether it's safety, convenience or comfort, each of these motorcycle gadgets brings something new and awesome to the table. 
1. Motorcycle Communication System
Talk to your friends, take phone calls, stream your favorite playlist of motorcycle music—a motorcycle communication system like the Cardo Packtalk Bold allows you to do just about everything short of putting the bike on autopilot. (That one is still a few years off, so don't try it.) Try these HD Bluetooth motorcycle helmet speakers and you'll wonder how you ever rode without them. 
2. Trickle Battery Charger
In the colder months when riders may not be able to get on the road, it's important to prevent a motorcycle's battery from dying. For that, you'll need a trickle charger. Just hook up one of these small devices to your motorcycle battery to keep it fed with a steady stream of low-voltage current. 
3. Chain Lubricator
A properly-lubricated chain is essential for the functioning of any motorcycle, but remembering to do it can be a pain. That's why chain lubricators are so great. These clever devices clip onto your bike's chain and automatically lubricate as you ride. And while they don't completely eliminate the need for chain maintenance, they can reduce it to the point where it's not such a frequent and onerous chore. 
4. Disc Lock
No matter where you live, it's always a good idea to invest in security for your bike. A disc lock is one of the best ways to make sure your bike is safe from theft. Just slip the lock over your motorcycle's disc rotor, and congratulations—your bike is nearly impossible to move. Thanks to how difficult they are to remove, a disc lock will deter all but the most resourceful thieves, so they're a great choice for anyone concerned for their motorcycle's security. 
5. Helmet Lock
So your bike is locked up tight—but what about that fancy new motorcycle helmet you just dropped a few hundred on? If you don't want to take any chances on it getting swiped, a helmet lock is a smart idea. These relatively simple gadgets use a combination lock and a carabiner to secure your helmet to your bike. 
6. Brake Light Modulator
The unfortunate truth is that motorcyclists still have to do everything they can to ensure that they're visible to drivers at all times. One of the cleverest ways to attract the attention of ever-more-distracted motorists is the brake light modulator. With just a little bit of wiring, this device creates attention-grabbing flashes and pulses from the brake light, helping to prevent potentially deadly collisions. 
7. Wireless Charger
So, you've got some awesome motorcycle gadgets—but what about the juice that they need to work? A wireless charger will help you keep them charged when it counts the most. These devices are essentially oversized batteries with charger ports for a wide variety of gadgets, including smartphones. Make sure to grab one with a waterproof design that's made especially for motorcycles. 
8. Crash Detection App
Nobody ever expects to crash, so when you do, it's crucial that you have a fast and effective way to summon help. That's what crash detection apps are for. These apps detect the sudden deceleration and impacts that accompany crashes. Then, if the rider doesn't swipe to signal that they're OK within a pre-set limit of time, the app automatically dials an emergency contact. It's a smart and cost-effective way to keep yourself safe should the worst happen. 
Source: Lipik Stock Media/Shutterstock
Ultimately, the only gadget that every motorcyclist truly needs is the steel companion that lets them conquer the highways and backroads. But adding a few cool pieces of gear here and there, like the Cardo Packtalk Bold, can give a serious boost to your riding experience.