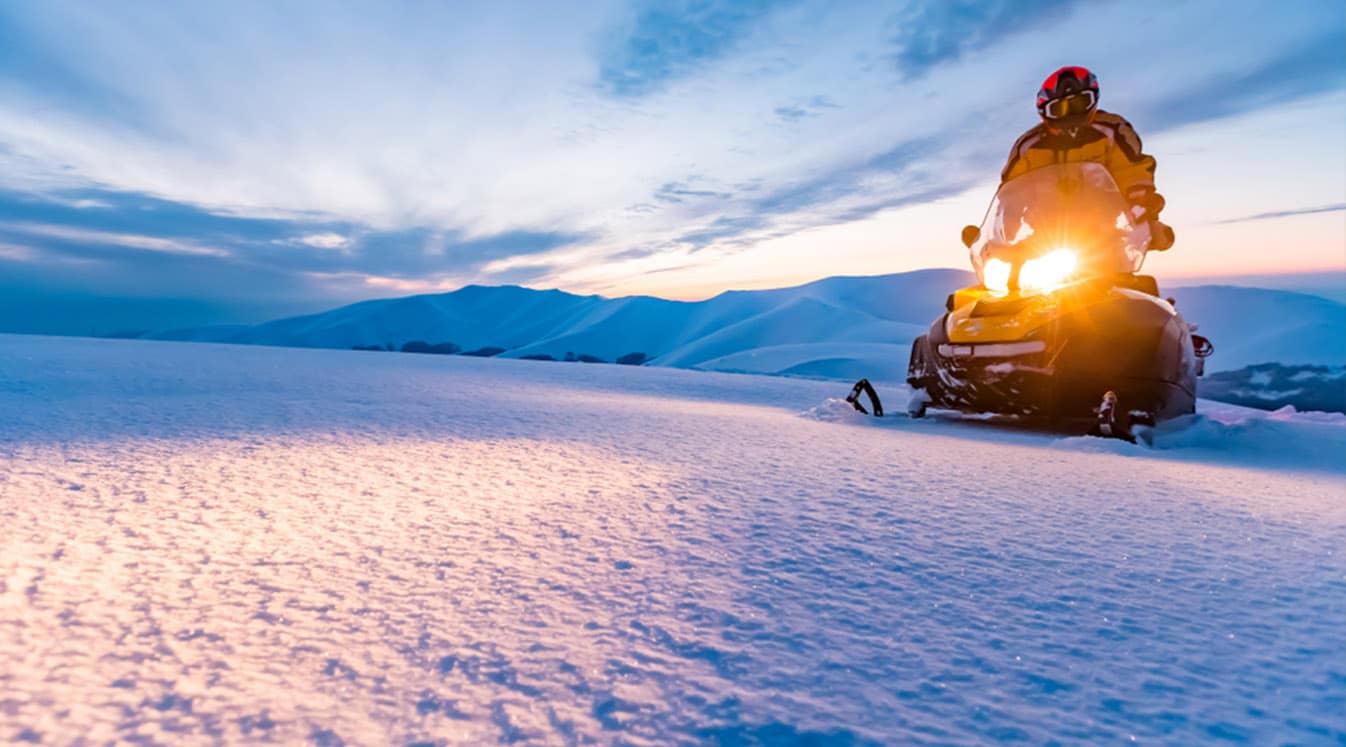 The 8 Best Wisconsin Snowmobile Trails
The state of Wisconsin is home to many fine things—dairy, beer and the kind of beautiful scenery that has to be seen to be believed. But something that you might not know is that Wisconsin is also a snowmobiler's paradise, with dozens of amazing snowmobile trails that will allow you to better enjoy that scenery. 
In the wilds of Wisconsin, you'll find trails that wind deep into the woods and then sneak up on you with a stunning open vista. You'll find gnarly terrain that will test your snowmobiling skills. And you'll find hundreds of miles of trails maintained by the diligence and commitment of dozens of snowmobile clubs who volunteer their time and resources to create beautiful snowmobile trails. 
If you're itching to put sled to snow in the Badger State this winter, here are eight of Wisconsin's top snowmobiling spots. Each of these destinations offers a wealth of trails to explore and get familiar with the incredible winter scenery of the Northwoods and surrounding area (or, as Wisconsinites call it, Up North). Whichever destination you choose, make sure to bring your helmet communication system so that you and your fellow riders can communicate, coordinate and help each other out as you take on the wilderness together. 
Disclaimer: Note that some of the trails, towns and resorts listed here may have changed their availability, trail hours and offerings due to COVID-19. Check the website for each location before making plans.
1. St. Germain 
In many ways, St. Germain is the epicenter of Midwest snowmobile culture. This small town located in the heart of northern Wisconsin's lake country welcomes thousands of snowmobilers every year. The sled-heads come to experience the town's legendary scenery as well as its snowmobile-centric culture, which includes the Snowmobile Hall of Fame. 
The Bo-Boen Snowmobile Club is the cornerstone of St. Germain's status as a snowmobiling destination. At 1,100 members, it's among the state's largest snowmobile clubs, and its trail design and maintenance practices are emulated by other clubs around North America. However, 10 other snowmobile clubs in the county all work hard to keep the trails in pristine condition.
As for the trails themselves, you'll find over 100 miles of them maintained and marked by the Bo-Boen club alone. What's more, these trails connect to the larger network of Northwoods snow trails, which extend over a staggering 1,600 miles. If that sounds like a lot to handle, it can be—but don't worry because the friendly Bo-Boen Trail Patrol is always on the lookout for lost sledders or those otherwise in need. 
2. Hodag Sno-Trails
Snowmobilers across the Midwest know that winter is the time to head up to Rhinelander in Oneida County, where you'll find this amazing 140-mile set of trails that connects many of northern Wisconsin's best snowmobile spots. Hodag Sno-Trails is both the name of the trail complex and the organization that maintains them, and their members do an incredible job of keeping these magnificent trails groomed. 
The Hodag Sno-Trails are an excellent choice if you're interested in a wider tour of the Northwoods' snowmobiling country. That's because they connect to a veritable who's who of Wisconsin snowmobile spots, including St. Germain, Hurley, Eagle River, Minocqua and numerous others on this list. 
A fun bit of local trivia: The trails and the club get their name from the Hodag, a creature of northern Wisconsin folklore said to have lizard scales, bull horns and a pair of enormous fangs. And while you might be pretty sure the Hodag is a myth when reading about it on your computer or your phone, the ancient grandeur of the Northwoods' dense forests can make it easy to let your imagination run away with you. 
3. Hurley
200 inches, seriously? Yes, 200 inches—that's the average annual snowfall in Hurley, Wisconsin. It's easy to see why this small town in Iron County has a reputation as prime snowmobiling country, and you'll often find sled enthusiasts out on the trails here when other areas of Wisconsin are still bare of snow. 
Organizations like the Mercer Sno Goers and the White Thunder Riders keep Hurley's 300-plus miles of trails groomed throughout the riding season. And oh, what trails they are! You'll encounter stunning locations such as a rugged series of iron deposits nearly two billion years old, spectacular frozen waterfalls and miles upon miles of jaw-dropping forest. 
While you're at it, Hurley also offers plenty of attractions for the whole family in any season. The town's history of mining and logging means that it offers some interesting historical sites, including the last standing mine headframe in Wisconsin at the Plummer Mine. And if you enjoy ATV riding, don't forget to come back during warmer weather for Hurley's famous ATV rallies like the Pumpkin Run. 
4. Eagle River
Eagle River is another legendary Wisconsin snowmobiling destination that claims itself as the Snowmobile Capital of the World. While many towns in Wisconsin make similar claims (including some we've covered here), Eagle River makes a genuinely impressive case for itself through the sheer amount of hard work that they put into giving snowmobilers the best experience. 
Consider this: Eagle River's five snowmobile clubs groom over 600 miles of trails daily. These trails wind throughout the Northwoods and intersect with other trails from famous snowmobiling destinations like nearby St. Germain and Three Lakes, so you'll find plenty of ways to get around. Eagle River is also situated amid well over 2,000 lakes, which turn the land into a Northern dreamscape and ensure an extremely healthy snowfall every year. 
And, because the people of Eagle River just can't seem to slow down, make sure you check out the town's annual Ice Castle exhibit. A team of volunteers hauls thousands of enormous ice blocks out of the frozen lakes each year, which they use to build a towering ice castle that's never the same twice. You'll spy it on the way down Trail #13, so make sure to put it on your must-see list. 
5. Three Lakes
Some riders enjoy their snowmobiling with a side of vintage small-town charm, and Three Lakes is the perfect place to find it. Visitors make their way through a downtown area lined with vintage lamp posts, stopping to eat at rustic restaurants and shop in delightful stores. But this is no theme park village, and you'll quickly discover that the region contains far more than the advertised three lakes. 
The Three Lakes area is located in a prime area of natural forest land near the Headwaters Wilderness, and the snowmobile trails here are eye-poppingly gorgeous. The area features nearly 200 miles of snowmobile trails. One must-see feature is the famous Chain of Lakes, a string of 28 interconnected lakes that ranks as the world's longest chain of interconnected freshwater lakes. 
Those who love Three Lakes' trails should raise a toast to the Three Lakes-Brule River Trails organization and the Northern Lights Snowmobile Club, two organizations that help keep the trails well-groomed and ready to ride. And that's not all they do. Visitors can support the Northern Lights Snowmobile Club by attending one of their many awesome events, including weenie roasts, club rides, overnight rides and more. 
6. Minocqua
The northern Wisconsin town of Minocqua receives over 65 inches of snow annually, so while it might not boast the extreme snowfall of places like Hurley, it's still a winter wonderland in its own right. It also doesn't hurt, of course, that the Minocqua area is almost unreasonably beautiful. In fact, Minocqua's official nickname is the "Island City" because it's surrounded by so many interconnected bodies of water. 
With over 1,300 lakes left over from the retreat of a glacier millions of years ago and over 233,000 acres of public forest land to explore, the best trails in the Minocqua area can make you feel like you've stepped back in time. Every year, legions of hardworking volunteers from organizations like the Minocqua Forest Riders Snowmobile Club come together to groom and maintain over 1,700 miles of trails that give sled-heads the experience of a lifetime. 
Where to start? The 21.5-mile Bearskin State Trail is one of the most popular in the area. The Bearskin follows an old railroad line and is a magnet for cyclists in the summer, but in the winter, it's a snowmobiler's paradise. The compacted granite that the trail is made from gives it a consistent feel that's ideal for long, smooth snowmobile runs. 
7. Door County 
Occupying most of Wisconsin's Door Peninsula (located just north of Green Bay), Door County offers some of the best snowmobiling outside of the Northwoods lake region. Approximately 250 miles of trails snake their way through this slender peninsular region and cross multiple types of local ecosystems, providing a fantastic guide to this unique region of the Great Lakes. 
The extensive trails are made possible by the generosity of Door County's snowmobile clubs and private landowners. Many of the trails cross private land that can't be accessed at other times of the year, meaning they provide an opportunity to see amazing scenery that's only available in the winter. This also means that it's important for snowmobilers to respect the trails, keep them clean and stay within marked areas. 
Door County offers several interconnected trail system options. The 50-mile Ahnapee State Trail is a great place to start since it begins in Green Bay and provides a perfect sample of Door County's postcard-worthy winter landscapes. The Bailey's Harbor to Sister Bay ride is also popular, as it passes through areas of the Mud Lake State Wildlife Area that often can't be crossed during warmer months. Finally, Potawatomi State Park's trails are always worth a ride thanks to the Niagara Escarpment, a unique geological feature that passes through the entire Great Lakes region all the way to Niagara Falls in New York. 
8. Chequamegon-Nicolet National Forest
The Chequamegon-Nicolet National Forest area offers a selection of Wisconsin's best backcountry snowmobile trails. Each features gently rolling terrain, beautiful old wooden bridges and a gorgeous array of woodland and wetland biomes. 
The crown jewel, however, is the Flambeau Motorized Trail, which features over 60 miles of snowmobile-friendly trails. The 20-mile Perkinstown Motorized Trail is also a popular snowmobiling choice that makes a great run for sledders of all ability levels and ages. Finally, you can also head down to the Wanoka Lake Recreation Area, which serves as a jumping-off point for several excellent snowmobile trails. 
Note that some of the CNNF's trails are located in remote areas with few opportunities to stop for fuel or supplies. Make sure to take a guide and/or bring extra provisions, and consider investing in a set of snowmobile helmet communicators to keep in touch with your fellow riders. But this is the real stuff, alright—backcountry snowmobiling that shows you just how gorgeous Wisconsin is and makes you more closely connected to the land in this unique and beautiful place. 
Now that you know the best snowmobile trails in Wisconsin, you've got another, more difficult task on your hands: Picking one! With so many great snowmobile spots in Wisconsin to choose from, the choice can be almost painful. But on the flipside, having so many great trails means that you can rest easy knowing that whichever one you pick, it's sure to be a great time. Just remember to bring your helmet to helmet communication device to warn your friends if you run into the Hodag. 
Image Sources
Source: Martin Poirier/Shutterstock
Source: Keith Bell/Shutterstock
Source: Bronislav Bogachevskiy/Shutterstock
Source: Wlad Go/Shutterstock
Source: Taras Hipp/Shutterstock
Source: Delpixel/Shutterstock
Source: Artic_photo/Shutterstock
Source: Jacob Boomsma/Shutterstock