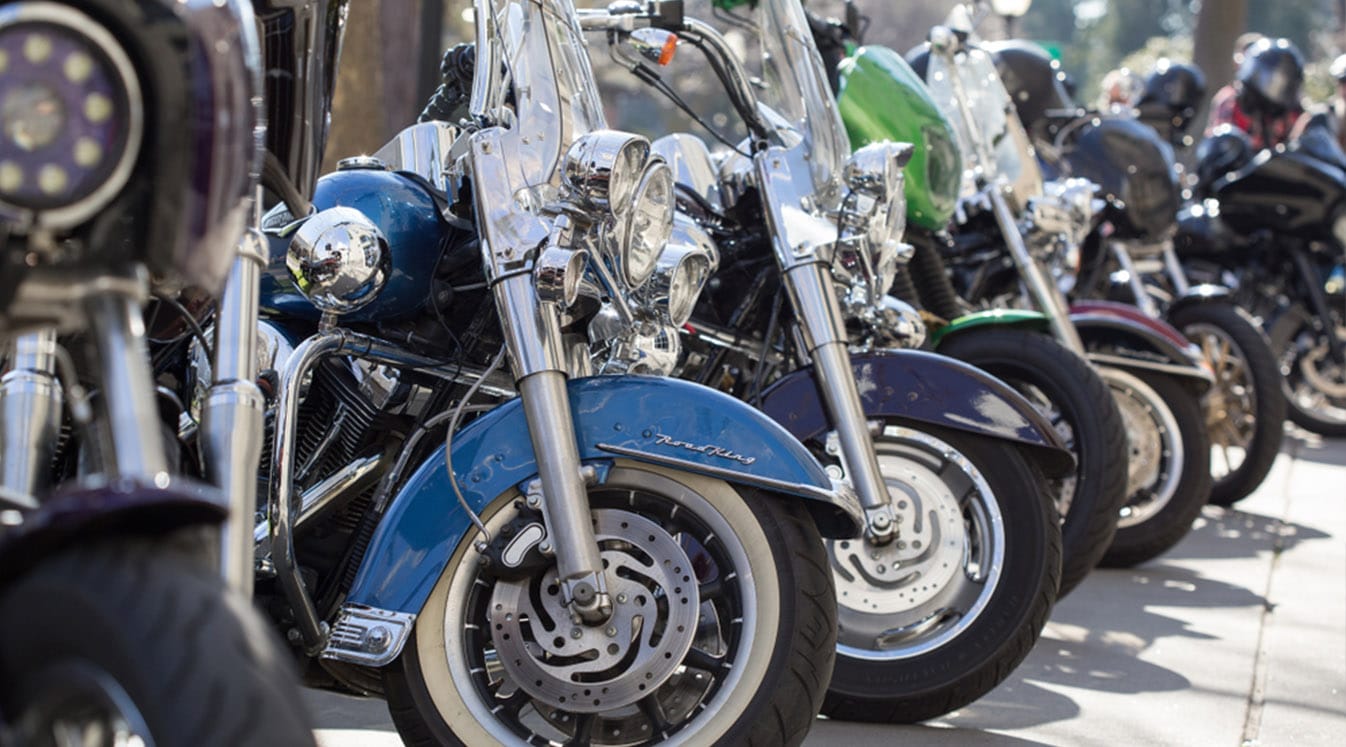 The Complete Guide to Motorcycle Brands
If you think car aficionados are crazy about their favorite automobile brands, you've probably never been in the midst of a couple of hardcore motorcyclists debating motorcycle brands like Harley vs. Indian, BMW vs. Ducati or Kawasaki vs. Suzuki. But the truth is, of course, that there's no one best motorcycle brand. 
Each motorcycle brand has plenty of reasons to love it because each makes at least a few truly awesome motorcycles. And each is known for different types of bikes, different visual stylings and different approaches to performance and engineering. However, there's definitely such a thing as the best motorcycle brands for you. 
In fact, finding the makes and models that you most enjoy is one of the most satisfying parts of riding motorcycles. To do that, you should familiarize yourself with the big names and decide which ones interest you. That's why we've compiled this list of the world's top motorcycle brands (which, we should emphasize, is in alphabetical order rather than any ranking of quality!).  
1. BMW Motorrad
HQ: Munich, Germany
Founded: 1916
The Scoop: BMW is most famous for their luxurious passenger vehicles. But most motorcycle enthusiasts also know that BMW's powersports division, BMW Motorrad, produces world-class motorcycles that are popular on both the track and the street. BMW's huge motorcycle lineup includes everything from rough-and-ready adventure bikes to white-knuckle sport bikes, all designed with their famous German precision engineering and a meticulous attention to performance specs. 
Major Models: 
– S1000 RR: The S1000RR is a street legal version of one of BMW's most famous racing bikes, and it's designed to blow your hair back with 205 HP and a drool-worthy frame design—all while maintaining the functionality today's riders need. 
– R1250GS Adventure: For tough roads and long rides, it's hard to beat this touring enduro bike's balance of comfort and power. Its trademark BMW boxer engine provides amazing low-speed stability and tons of torque in every power band. 
– R1250R Roadster: The top of BMW's naked bike offerings features the sharp design and engineering they're known for, with a frame and engine perfect for everything from light touring to urban navigation. 
2. Ducati
HQ: Bologna, Italy
Founded: 1926
The Scoop: Ducati is a legendary Italian motorcycle brand that has been around almost since the beginning of motorcycles themselves, and their reputation is well-earned from decades of amazingly well-built motorcycles and engines. Most people know Ducati for their fast and powerful sport bikes, but their range of models actually includes several different styles, including adventure bikes and slimmed-down standards. What's consistent across all of their models is an unshakeable commitment to quality and performance engineering. 
Major Models: 
– Panigale: A supersport bike so beautiful you might cry, the Panigale V4's 214 horsepower and gorgeous design make it a staple of the European racing circuit. Its surprising ease of handling makes it just as good for a rider new to supersports as for a seasoned pro. 
– Multistrada: The Multistrada is made for everything that makes life fun, whether that's ripping down a country road or twisting through urban traffic. Few bikes can blast through sand or gravel like a Multistrada, and the rip-roaring performance will make you fine with the Ducati price tag. 
– Scrambler Sport Pro: With a killer look that's a little bit vintage and a little modern, the Scrambler sets a new bar for sporty standards. Its name comes from its unique suspension that gives it more off-road capability than most standards. 
3. Harley-Davidson
HQ: Milwaukee, Wisconsin, USA
Founded: 1903
The Scoop: For many riders, a motorcycle is a Harley-Davidson and a Harley-Davidson is a motorcycle. Harley was among the first manufacturers to bring production motorcycles to market, and they've introduced many innovations since that eventually became industry standards, including the V-Twin engine. Harleys are known for their high quality and attractive looks, but buyers should be prepared for the higher price tag that comes with that quality. Nonetheless, if you're looking for classic cruisers, Harley does it like nobody else.
Major Models: 
– Softail Standard: An old standby of Harley cruiser design that gives you plenty of power out of the box, but also room to customize to your heart's content, thanks to its wide range of available equipment and features that allow riders to create the cruiser of their dreams. 
– Road Glide: Touring bikes don't get much sleeker or more comfortable than the Harley Road Glide, with its booming V-Twin and sporty fairing that creates its namesake smooth ride. 
– Iron 883: A svelte and sporty street bike that's the perfect entry point for newcomers to Harley, the Iron 883 is available at a more wallet-friendly price point than many other hogs without sacrificing the muscular V-Twin and pleasant ride that bring riders back to Harley again and again.  
4. Honda
HQ: Tokyo, Japan
Founded: 1946
The Scoop: Honda makes just about anything with an engine, from their ultra-popular Civic and Accord sedans, to lawnmowers, to generators, to motorcycles. But their motorcycles are anything but an afterthought. In fact, they produce some of the toughest and most well-regarded bikes around. Gearheads love Honda bikes because they run forever and are easy to modify, and value hounds love them because they give you an incredible amount of motorcycle for the money. 
Major Models: 
– Honda Rebel: Among the best starter motorcycles of all time, the Honda Rebel series features sharp styling that splits the difference between cruiser and standard, a beginner-friendly price point and a range of designs from the smaller 300 to the seriously beefy 1100. 
– Honda CB: Another fun and versatile bike series from Honda, the CBs are sporty naked standards with an ultra-light design and a surprising amount of power. The 300 is perfect for beginners, while experts will find the 1000R a thrill and a half. 
– Honda Gold Wing: The Gold Wing is one of the world's most legendary touring bikes, and its 21st century updates hit just the right spot with a futuristic fairing design and tons of technical goodies like built-in Bluetooth to make it even easier to get phone calls and media in your motorcycle communication system.
5. Indian
HQ: Medina, Minnesota, US
Founded: 1901
The Scoop: Indian is the other major American motorcycle brand and the only one that rivals Harley for brand longevity and storied history. Originally founded in 1901, Indian struggled for much of the late 20th century, but became revitalized after the brand's purchase by Polaris Industries in 2011. Now, Indian offers premium cruisers designed after its classic models that have staked out a bold and active spot in the U.S. cruiser market. 
Major Models: 
– Indian Scout: The Scout is a low-slung cruiser that offers an incredibly comfortable yet simultaneously nimble ride. Its stripped-down cousin, the Scout Bobber, is an even more lean-and-mean model in the popular bobber style. 
– Indian Vintage: Indian's cream-of-the-crop cruiser comes sporting serious vintage style and luscious curves, as well as a bevy of customization options like real leather saddlebags that allow any rider to create their own signature take on this classic. 
– Indian Roadmaster: In search of a truly luxurious touring motorcycle experience? The Indian Roadmaster does it like no other. It's designed for next-level comfort on rides of any distance, and its big-boy engine ensures that you've got plenty of power to get there. 
6. Kawasaki
HQ: Kobe, Japan/Tokyo, Japan
Founded: 1896
The Scoop: Kawasaki is another massive multinational manufacturer of motorcycles with a substantial presence in many other industries beyond powersports. Their bread and butter models are the popular Ninja sport bike series, but their expertise extends into a great series of cruisers, naked bikes and adventure models. Kawasaki is also a great motorcycle brand for riders who want to get their money's worth, as their price points tend to be lower than comparable models from other manufacturers. 
Major Models: 
– Ninja: The Ninja series' pinpoint handling, serious engines and relatively low price points have made them among the world's most popular sport bikes, from the beginner-friendly Ninja 400 to the pavement-scorching Ninja H2. 
– Versys: A naked bike with an adventure styling that makes it great for both rural roads and city commuting, the Versys series are ideally suited to the modern rider's needs. 
– Vulcan: If you ever doubted Japanese cruisers, the Kawasaki Vulcan will make you a believer. Its 900 cc V-Twin engine is powerful enough for long-distance riding, and its smooth handling and comfortable build are practically begging for the open road. 
7. KTM
HQ: Mattighofen, Austria
Founded: 1934
The Scoop: Austria's KTM has quietly staked its claim as one of the largest motorcycle manufacturers in Europe and an undisputed leader in sport, naked and adventure bike design. KTM's bikes are great alternatives for those looking for European performance powersports design without the price tag of some other Euro brands. Their motorcycles are reliable, look great and will give you the vroom you crave in a no-nonsense package. 
Major Models: 
– Duke: The Duke is KTM's flagship naked bike, and its precise handling and scintillating design have made it a favorite of riders all over the world. It is available in sizes from the fun and frisky 390 to the rip-roaring 1290 Super Duke. 
– Adventure: It's just what it says—an adventure bike, and a great one at that. The KTM Adventure's four different sizes are each built for taking on all kinds of roads without breaking a sweat. 
– RC: Other entry-level sport bikes fear the KTM RC 390, which is designed with everything you want from a sport bike, including a most pleasurable torque-rich engine and the handling qualities of a much pricier bike. 
8. Suzuki
HQ: Hamamatsu, Japan
Founded: 1909 
The Scoop: Another member of the Big Four of Japanese motorcycles, Suzuki comes prepared to rock and roll with a full line-up of sport bikes, plus some surprisingly great cruisers and adventure bikes. Price-wise, their bikes trend a little bit more toward the premium end than Kawasaki, but they still offer some great deals on extremely solid motorcycles across the horsepower and design spectrum. 
Major Models: 
– Hayabusa: What is there to say about the Hayabusa? It's among the world's fastest and most powerful production sport bikes, it's got an iconic full-fairing styling and if you want one, there's probably no other bike that will do. 
– Boulevard: Get your cruise on with the Suzuki Boulevard, a cruiser that sets itself apart from the Harleys and Indians of the world with its slightly futuristic style and its wide range of models with affordable price points. 
– V-Strom: A favorite of the rural rider who loves exploring, the V-Strom is a higher-end adventure bike with exceptional fuel economy and reliability that makes it the perfect companion for any journey. 
9. Triumph
HQ: Hinckley, UK
Founded: 1902
The Scoop: One of the UK's oldest and most beloved motorsport brands, Triumph is known for the variety of high-performance motorcycles coming out of its factories and the classic styling of many of its most popular models. If you're itching for power and prestige in an eye-popping cool package, Triumph could be your ticket to victory. Their prices tend towards the mid-to-high range, but many riders consider the quality to be worth it. 
Major Models: 
– Street Triple: An ultra-light and super-fun naked roadster that's popular among riders of all skill levels, the Street Triple is just as comfortable on the track as on the road. 
– Bonneville Range: Built as a tribute to the legendary 1959 Bonneville, the Bonneville Range series is catnip to classic cafe racer lovers who also want a bike built with all of the modern goodies. 
– Rocket 3: If you want the very best in speed and torque, it's nearly impossible to beat the Rocket 3, which boasts the world's largest production motorsport engine and a slamming 165 HP. Van Halen's "I Can't Drive 55" on your helmet speakers is semi-mandatory. 
10. Yamaha
HQ: Hamamatsu, Japan
Founded: 1887
The Scoop: If you thought Honda made a lot of stuff, wait until you meet Yamaha, a company that makes everything from motorcycles to snowmobiles to stereo systems to pianos. But, like Honda, their motorcycles are well-regarded among enthusiasts for their reliability and their fine-tuned engineering. Yamaha makes a wide variety of motorcycles, from sport bikes to the popular Tenere adventure series. 
Major Models:
– MT: The Yamaha MT series is the flagship of Yamaha's innovative "hyper naked" design, with sporty handling combined with a naked bike design that creates a truly athletic and fun-to-ride motorcycle. 
– YZF: Yamaha's YZF line runs the whole gamut of the supersport price range, from the beginner favorite R3 to the track-slaying pinnacle of the R1M. What they all have in common is incredible handling and high-performance specs. 
– Tenere: Performance adventure bikes built for the city, the country and everything in between, the Tenere and Super Tenere come packing powerful engines and easy-to-adjust long travel suspensions that make them an adventurer's best friend. 
Ultimately, the best way to evaluate motorcycle brands is always to ride one of their bikes and see for yourself! And when you're out having your adventures, remember that Cardo Systems offers motorcycle communication systems that riders love. Our motorcycle helmet speakers are designed for performance, safety and, most of all, fun—and they make great gifts for motorcycle riders.  
Image Credits
ZikG/shutterstock.com
Aisyaqilumaranas/shutterstock.com
cristian ghisla/shutterstock.com
George Sheldon/shutterstock.com
Boryana Manzurova/shutterstock.com