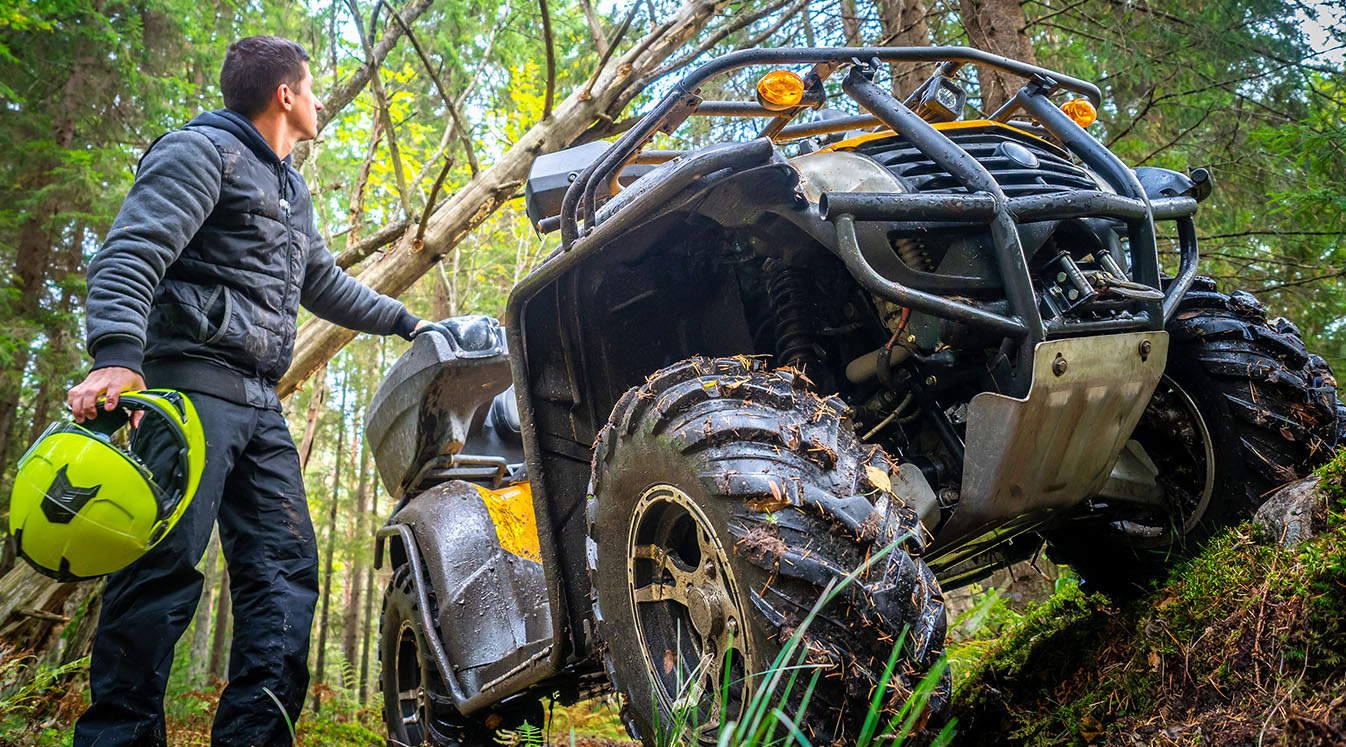 What to Wear ATV Trail Riding
ATV trail riding means getting down and dirty, exploring the backcountry and indulging your curiosity about where that one weird trail goes. 
Trail riding is about taking calculated risks that can give you the adrenaline rush of exploration and pushing yourself to the limit—but it's also about protecting yourself so that your risks aren't foolish ones.
Wearing protective gear when riding an ATV is just common sense, and it's important to have all of the pieces together before you rev up your four-wheeler. We'll talk about the key gear pieces that will keep you protected while you're on the trail (including ATV communications systems) and why they're so important for getting home in one piece. 
1. Helmet
Helmets are a powersports must-have, anytime, anywhere, and ATV riding is no different. Riding an ATV without a helmet can be nearly as dangerous as riding a motorcycle or dirt bike without one. It's a risk that there's just no reason to take when so many great helmets are now available. 
You'll want a helmet that's specifically designed for ATVs and motocross, since these include some critical features like a more durable chin guard and a slot for goggles (rather than a regular face shield). A motorcycle helmet may work in a pinch, but it's much better to have one that's designed for ATV riding. Remember that your helmet is the #1 element of your gear when you're riding, so don't skimp on a cheap one—get a comfortable and well-reviewed model that will go the distance to keep your head protected. 
2. Riding Boots
Keeping your feet protected is another big safety priority, so go for a pair of ATV riding boots with soles that grip and ankle/calf padding to make your legs more comfortable as they're hugging the quad bike. You'll likely need to do some walking in muddy conditions when trail riding, so boots with a little bit of cleat on the sole are always a good idea. 
If you're looking for durability, check the buckles. They're often the weak point of boots, so a pair with sturdy buckles is likely built to last. For those who ride ATVs with foot shifters, look for boots with a plastic toe guard on the left foot. 
3. Gloves
Protective gloves are another essential for ATV trail riding. Your gloves should include grip on the palms so that you can keep your hands in the right place when it matters the most, and gloves with fingers made with separate sections often give better performance on fine hand movements. Vented patches on the backs of gloves help keep your hands cool and comfortable while you're riding. If you're planning on riding in cold weather, a pair of insulated gloves can also be a lifesaver—or grab some handlebar muffs to keep your hands extra-toasty. 
4. Goggles
From rocks to twigs to dust and beyond, there are a thousand different things that can come flying at your eyes when you've got your ATV out on the trail. A pair of UV polarized goggles will protect your vision from flying debris, as well as from bright sunlight that can blind you in a critical moment. Make sure you get a pair that is comfortable to wear with your chosen helmet and that is suitable for extended wear, particularly if you're taking long backcountry rides. Finally, look for goggles that have removable and replaceable lenses, since ATV goggles tend to get scratched up easily by dirt and rocks. 
5. ATV Communications System
Riding ATVs with friends and family is a great way to connect and bond over your love of outdoor adventure. Cardo Systems' groundbreaking Bluetooth communicators are the best ATV helmet communications system for keeping in touch while you're on the trail. They're hands-free and voice-operated, so you don't have to remove your hands from the handlebars, and you can even answer phone calls or stream music from your smartphone with just a few simple voice commands. Cardo Systems also offers cutting-edge ATV communications system models with Dynamic Mesh Communication to give you better performance, larger networks and communication over a much longer distance. 
The fun of powersports like ATV riding depends on protecting yourself so that you can keep enjoying the adventure and pushing further. Packing the essential ATV gear is the first step to off-road dominance, so don't go halfway—pick the gear that gives you the comfort and confidence to ride like you mean it.